With Gaines out for season, Belles must, 'clean up the crap'
Nathan Stearns, Women's Basketball/Field Hockey Beat Reporter
January 9, 2020
East Lansing — Close your eyes and imagine a sports team that loses two key senior contributors at the beginning of conference play.
Now imagine this.
That in their absence, a batch of talented young freshmen are being called upon to mature at a rate faster than anyone would have originally thought or desired. 
Would it surprise someone if growing pains and missed assignments became a weekly occurrence in the games played by the imagined club?
Chances are it probably wouldn't.
After all, mistakes are expected to be made by young athletes who are becoming accustomed to the rigors of collegiate basketball.
This doomsday scenario has come home to roost for the Michigan State women's basketball squad (8-6, 1-2 Big Ten). Two of the main program staples for the Spartans are currently on the mend with no timetable for a return. Victoria Gaines has been ruled out for the rest of the season with an ankle injury, while Shay Colley continues to rehab a nagging quadriceps ailment. 
Gaines re-aggravated a sore ankle in the Spartans' 79-67 road loss vs then No. 12-ranked Indiana. When Gaines pulled herself out of the contest, coach Suzy Merchant knew something was wrong. 
"I had a bad feeling when she came out, because she doesn't come out even if she is hurt," said Merchant.
The loss of Gaines is a significant blow for a Spartan frontcourt that came into the season with limited game experience.
"Losing Coco (Gaines) for the year is going to be a problem," said Merchant. "She did everything that her body could give her. She knows how to communicate ball screens and knows where the help has to be. She was a really good defender for what she could do for us. She is a kid that legitimately played through pain every single day and found a way to dig deeper." 
Colley also is nowhere near appearing in any meaningful action.
"She can't get up and down and she cannot cut or plant," said Merchant. "I don't know if she will come back. It is already mid-January."
Both Colley and fifth-year senior Gaines were initially expected to propel the Spartans to a successful season. Combined with sophomore sensation Nia Clouden and a gifted recruiting class, the sky appeared to be the limit for MSU at the inception of the 2019-2020 season.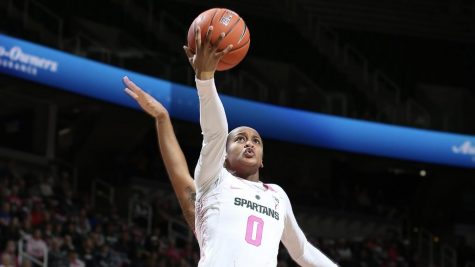 "You certainly saw the promise of where we were going and then all of a sudden you get derailed," said Merchant. "That's a tough thing and it takes time to gather that experience."
Unfortunately for the Green and White, injuries have foiled what was projected to be a season for the ages. The loss of Colley and Gaines for the foreseeable future has forced inexperienced players into the spotlight a bit earlier than initially projected. 
This sentiment of frustration was echoed by sophomore big Kayla Belles.
"When we started out, we were so strong. It was amazing how much we clicked," said Belles. "I knew injuries would come along, because as the season goes along, people start to wear down. Now that we have lost Shay and Coco, I see more of a younger team."
Belles will be a key cog for the Green and White going forward. Her and four-star recruit Taiyier Parks figure to receive the bulk of the minutes vacated by the injury-stricken Gaines.
"I was so dependent on Coco this year, because she is our fifth-year-senior," said Belles. "When I was in the game and something (wasn't) going right, I said 'Coco's got my back. She is going to come in and clean up all the crap that I am doing.'"
The "crap" that Belles is referring to may revolve around her season struggles to convert layups from point blank range. Up to this point in the season, Belles is sporting a 48% field goal percentage and a 47% mark from the charity stripe.
Michigan State will need Belles and Parks to net a much bigger impact on both ends of the floor if they wish to make the NCAA tournament for the fourth time in five years.
Despite the sheer number of injuries that the Spartans are currently trying to navigate through, coach Merchant is anxious to get Belles and Parks more playing time for development purposes. 
"They are just young and don't have the experience," Merchant said. "People need to be patient with them since both of them didn't play their entire senior year of high school."
The young frontcourt combination of Belles and Parks struggled through leg injuries throughout the course of their final seasons in high school. Two torn ACL's prevented both players from participating in their final year of high school competition. 
Belles herself would have yet another setback last season with another lower leg injury that caused her to miss significant time. Despite being classified as a sophomore, Belles has received sparse playing time at a competitive level over the past two and a half seasons.
"At the beginning of the season it was really a big step into sophomore year, because I still feel like a freshman sometimes," said Belles. "There was a lot of expectations coming into this year for me because Jenna (Allen) left and I have been working all summer. It was still hard for me to grow up a bit and step up into bigger shoes."
All is not lost for Michigan State. Clouden and Taryn McCutcheon both provide a formidable backcourt for MSU. These two talented guards will be tasked with steering the season back into the right direction as conference play wears on. 
"We definitely lost some key players, but despite that we still have to find a way to win and play together," said Clouden.
How well players like Belles get acclimated to the weekly grind of Big Ten play will go a long way in determining the overall success of the 2019-2020 season. 
As good as Clouden and McCutcheon are, they need some scoring help to knock off the conference elites such as Maryland and Indiana.
Time will tell if Belles answers the bell.
Contact Nathan Stearns at [email protected] Follow him on Twitter at @NathanStearns11.