Spartans defeat Northwestern in five-set thriller
EAST LANSING – No team wants to be known as the club that was unable to beat the conference doormat. That dubious distinction was earned by Michigan State last Friday in Evanston, Illinois, as they were swept in three sets by the Northwestern Wildcats, who were previously 0-10 in Big Ten action.
In those 10 meetings, the Wildcats had failed to capture a set in six of those contests. All in all, last Friday was a disappointing performance for MSU. The Spartans would get a chance to exact revenge on the basement-dwelling Wildcats on Saturday night.
In what was a gutsy effort that saw MSU come from a 2-1 set deficit, the Spartans snapped a six-game skid, improved to 5-9 in conference play and got revenge against the lowly Wildcats.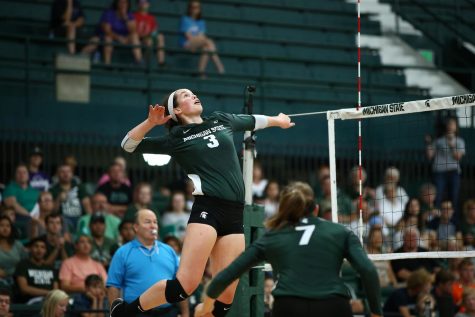 "We went into this gym this week with a vengeance to beat this team, because we did get swept last time," said outside hitter Biamba Kabengele. 
Outside hitter Meredith Norris was sensational for the Green and White once again with several key plays that allowed for MSU to come from behind and collect a gritty conference home victory. 
"We definitely had some ups and downs in this match, but just being able to finish it out is great," said Lauren Swartz. "Even though we went to five sets, we told ourselves that we were going to go from the start in that fifth set and go out with a bang."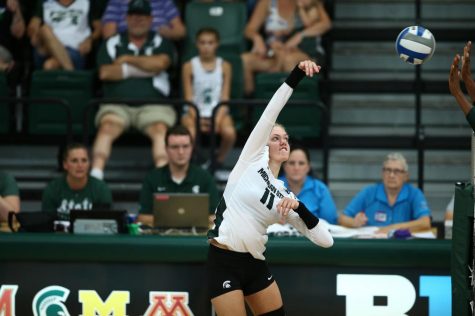 In what was an accurate representation of the last six games, the Spartans came out flat early and fell behind 5-1. An early timeout by head coach Cathy George would provide an opportunity for Michigan State to regain their composure. However, despite a seesaw affair throughout the majority of the first set, the Wildcats were able to mount a 4-0 scoring run late that put MSU in a hole. The Spartans would be unable to climb out of said hole, as they eventually fell in the first set 25-20.
Whatever was said by George in the brief intermission sure woke something inside of the Green and White, as they stormed out to a quick early lead and kept the Wildcats at arms length throughout the entire duration of the second. Norris was everywhere in the second, as she complied 13 total attacks in the first two sets of action, as well as 4.5 points.
Norris would receive help from fellow outside hitter Alyssa Chronowski, who had seven total attacks and two points of her own through the first two sets of action. MSU would take the second set by a 25-11 margin.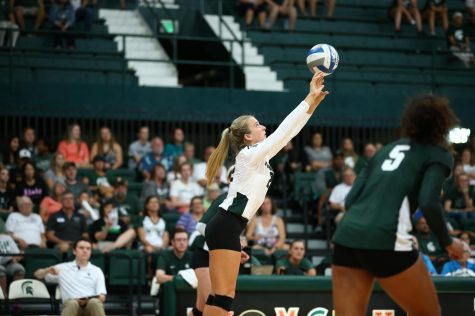 The third set was a carbon copy of the first set for Michigan State. Everything that hampered them in the first buried the Green and White again in the third. Several service errors and miscommunication resulted in the Spartans dropping their second set against the Evanston visitors. A late rally that brought the Spartans even with Northwestern at 23 all would make for an interesting conclusion, however the Wildcats did just enough to finish out another set win that would put MSU on the ropes.  
The fourth set would be controlled from the get-go by the host team. It seemed as if Northwestern was determined to win every odd-numbered set, while MSU would control the even-numbered sets. The Green and White looked like a completely different team in the second and fourth sets than the first and third. After dispatching of Northwestern 25-14 in the fourth, it was anyone's guess as to what version of the Spartans would show up in the final frame that was for all the marbles. 
The fury and fire that MSU played with would carry over in the final set with a quick 10-3 set lead behind the strength of several ferocious spikes from Nia Gros and Kabengele. Despite a late surge from Northwestern, MSU would hold on and collect the 15-10 final set win and by extension, the match. It was an encouraging sign for a team that had struggled so mightily over the last several weeks.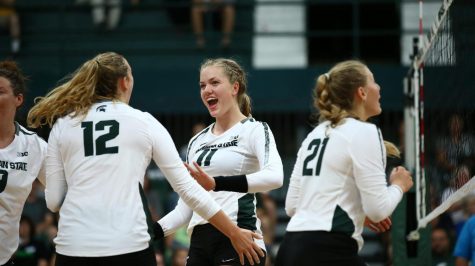 "It brings us our confidence back," said Kabengele in response to the thrilling victory. "It also gives us momentum going forward to our next couple of Big Ten games. We also come together, because there are times when we get in our own personal heads."
Swartz would also credit the electric Jenison Field House crowd for helping to elevate the play of the Spartan athletes.
"We love our fans and we are so thankful for them," said Swartz. "It's so great to feed off of their energy. They gave us such a momentum boost. We love playing at home in front of our fans."
The Spartans will be looking to mount a large upset against the No. 7-ranked Nebraska Cornhuskers this coming Wednesday at Jenison. The match is scheduled to begin at 7 p.m.
Contact Nathan Stearns at [email protected] Follow him on Twitter @NathanStearns11.