Following Cornell sweep, Spartans look to bounce back at No. 6 Penn State
EAST LANSING – Over the weekend, Michigan State hosted No. 4 Cornell for a two-game series. MSU dominated Cornell twice on the road last season, but couldn't defend home ice from the Big Red, losing by a score of 3-2 on Friday and 6-2 Saturday.
"50 minutes of Friday's game were even," said head coach Danton Cole during his weekly press conference. "Penalties limited us on Friday, but our players did a good job on the penalty kill the next night."
Cornell proved its legitimacy, but not without a valiant effort from Michigan State.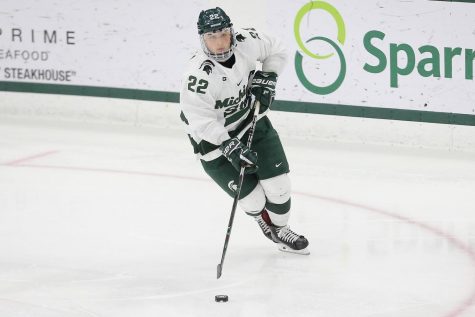 MSU took the early lead during Friday's contest with a power play goal from defenseman Dennis Cesana, yet nine penalties ultimately hindered any offensive response. MSU goaltender John Lethemon had a respectable performance – allowing three goals on 30 shots.
The next night, Cornell's offensive excellence blew the game wide open in the first two periods. Sophomore Drew DeRidder had a rough night in between the pipes, with four goals allowed before being replaced by Lethemon late in the second period. The Spartans countered back with two of their own late in the third before the final horn sounded. Cornell exited East Lansing with two big wins in hand to start the season.
"My team didn't need me to be angry or comforting after the loss. Instead, I was very clear and real with them on what is expected going forward," said Cole. "Going into Penn State this weekend, the attitudes towards our goaltending haven't changed. Drew is still an outstanding goalie, and we know he'll bounce back from this one."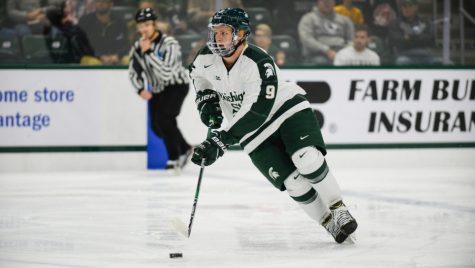 This upcoming weekend marks the beginning of Big Ten conference action for Michigan State – with a overall record of 2-4.
During the 2018-19 season, Michigan State split both series with Penn State. The last meeting between the two was Feb. 16 at Munn Ice Arena, which resulted in a Nittany Lion win.
"We competed very well against Penn State last season. We understand the subtleties of their play style, and we plan to make them work for their chances," said Cole.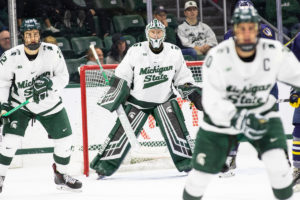 This year's Penn State team is loaded with upperclassmen, and the resiliency of its offense is the key area of focus for Cole's players. Senior forwards Nate Sucese and Brandon Biro together have totaled nine out of Penn State's 31 goals, as well as 16 assists through seven games. The team's transition time from defense to offense is quicker than any MSU has seen so far.
Strong neutral zone pressure is the key to slowing down Penn State's quick transitions. Something that Cornell capitalized on last weekend was dominating the area between the blue lines – resulting in more scoring chances. MSU's defense is known to play physical. Look to see defenders engaging forwards before entering the zone with big, smart body checks on the road this weekend.
The all-time road record for Michigan State against Penn State is 2-7-1; the last meeting at Pegula Ice Arena resulted in a 6-4 triumph by MSU. Friday's puck drop is set for 7 p.m.
Contact John Supan at [email protected] Follow him on Twitter @johnsupan415.