Consistency will be key for Michigan State this season
EAST LANSING — After watching the Michigan State women's basketball team play against Eastern Michigan, one thing that really stuck out to me is the inconsistency shown by the team.
They were down 13-9 after the first quarter, and only outscored Eastern by six in the second. I do understand it was the first game of the season, but you have to come out every game ready to play as the No. 17 ranked team in the land. You will get everyone's best shot with a ranking next to your name, especially in the non-conference schedule.
That being said, Michigan State really turned it around in the third quarter. They outscored the Eagles 32-3 in the quarter and held them to without a field goal in 14 shots. After going 3-for-12 from the 3-point line in the first half, MSU also picked up the 3-point scoring, going 8-for-14 in the second half.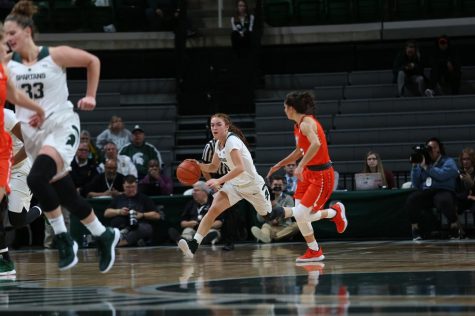 The fourth quarter statistics were pretty even, but a lot of Michigan State's starters had minimal time on the floor, as MSU was up by 31 going into the fourth quarter. 
When I asked Suzy Merchant on what the Spartans can do to minimize quarters like the first and have more quarters like the third, she pointed to shot making as a big focal point.
"Well we turned them over," Merchant said. "Our defense led to offense and we made shots. As silly as that sounds, we had so many open looks. In the first quarter, we shot 17% and were o-fer from the three point line. That's not acceptable, but we did a much better job in the next three quarters."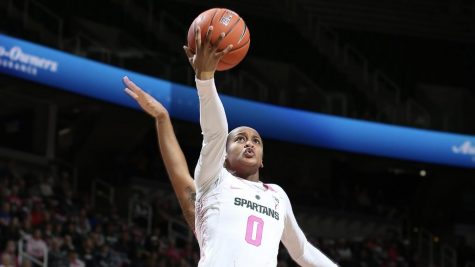 Merchant also went on to say that she gave everyone a good chunk of minutes with the exception of freshman Cyndi Dodd (four minutes), and redshirt sophomore Claire Hendrickson, who did not play because of a knee injury. She talked about how the minutes distribution will not be the same throughout the season.
"Claire did not play because of her knee, so there's 14 kids on a scholarship on my team, and Cyndi only played four minutes," Merchant said. "She's someone we've been working with, but every other kid was getting minutes. You know, 10, 12, 15, 18, 20, etc." 
"It's not gonna be like that. Eventually I am going to have to settle into a rotation and people want to be in that rotation, so their player efficiency ratings have to outweigh the person their competing against."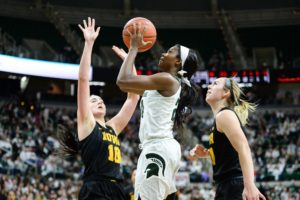 For those who don't know, player efficiency is measured by this formula: points + rebounds + assists + steals + blocks – missed shots – missed free throws – turnovers, then divide that number by the number of games played.   
The consistency of this team will make or break this season, especially once Big Ten season comes around and they player stiffer competition. Hopefully there will be a continuous rise in those player efficiency ratings throughout the season for the Spartans. 
The Spartans will be in action again this Friday at the Breslin Center as they take on University of Detroit Mercy at 7 p.m.
Contact Bobby Zeffero at [email protected] Follow him on Twitter @BigSportsGuyBob.