Michigan State injuries show in loss at rival Michigan
Ian Gilmour, Men's Soccer Beat Reporter
October 30, 2019
ANN ARBOR – The quality gap between Michigan and Michigan State on paper is not a large one.
The quality gap between them on the field in Ann Arbor Tuesday night was not large either.
Yes, Michigan controlled tempo and held more possession than the Spartans, but chances came for both sides. 
And in a derby-type atmosphere like this matchup provides, all previous form can be thrown out the window.
"There's no rivalry in the Big Ten like this, as far as soccer goes," said MSU head coach Damon Rensing.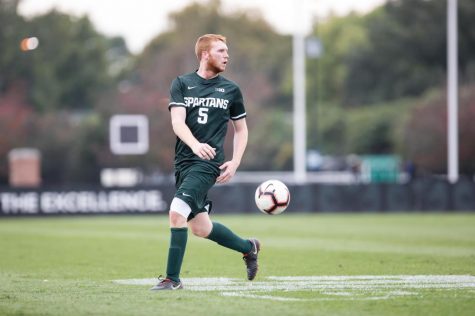 The difference that led to the 2-0 scoreline in favor of the Wolverines came down to two things.
First, MSU's luck with injuries somehow remains torrid, and this was a game that cried out for the players unavailable to them.
Second, Michigan was simply more clinical with its play in the final third and capitalized on its offensive opportunities better than MSU did. 
"I thought at times we did what we wanted to do, but you can't have those mistakes and then chase the game," said Rensing. 
For the first time this season, at least as far as I know, MSU came out in a different formation than their staple 4-3-3 that they've employed for the last two seasons.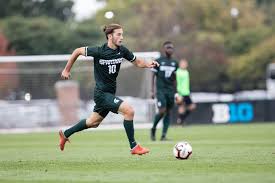 Rensing fielded his side in a 5-3-2 formation, playing Patrick Nielsen, Nick Woodruff and Nick Stone in a three-center back trio. Credit Rensing for trying something different, and making an effort to deal with a hostile environment like the one the Michigan Ultras and the rest of the Maize and Blue faithful bring to Ann Arbor.
The five in the back wasn't just to handle the environment or to counter the threats Michigan posed, it was a product of the loss of Michael Wetungu, who was not dressed for unknown reasons.
While Stone has been wonderful at outside back for MSU all year, he is not built to deal with the size and strength of Nebojsa Popovic, who bagged both of the Michigan goals, bringing his tally to 10 on the year.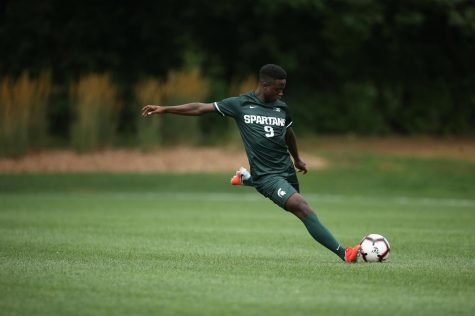 Wetungu, standing at 6-foot-3 and 200 pounds, may well have been better able to deal with the strong, yet shifty Popovic. 
Though he has been out all season and MSU has learned to live without his attacking presence, the absence of Giuseppe Barone was as influential tonight as it's been in any other game this season. 
While they did knock on the Michigan door going forward in the first half, it seemed as though the longer the game went on, the MSU movement in the midfield while in possession became stagnant and bereft of creativity. There was more than one occasion when one of the MSU fullbacks was forced to just play long over the top because no one could create separation from their marker. 
Some of the credit with regards to that needs to go to Michigan's phenomenal defensive shape and organization, which proved monumental for Chaka Daley's side throughout the 90 minutes.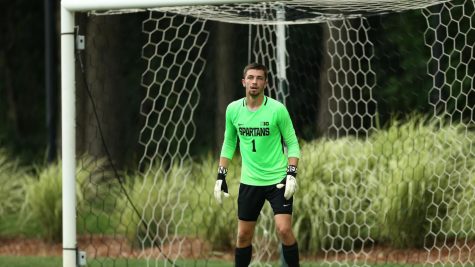 With regards to the clinical aspect of things, when MSU did create chances going forward, they struggled with the final pass and the finishing just wasn't there. Of their six total shots, zero found the target, granted one did ring off the left-hand post. 
Michigan was simply more clinical and creative in the final third and that became the difference.
This result creates a scrum in the standings for teams hoping to host a Big Ten Tournament game. Only two points separate third and sixth place, with the top four teams hosting a tournament quarterfinal; all teams have one game remaining in Big Ten play. Click here to see the Big Ten standings. 
MSU will have to take this loss in stride, as they have a quick turnaround before they host league-leaders Indiana at home on Sunday to wrap up their regular season.
Contact Ian Gilmour at [email protected] Follow him on Twitter @IanGilmour04.