Stearns: Time to embrace the mediocrity
EAST LANSING – When the weather dictates your game plan before the game even starts, it would be wise to make sure that your offensive line knows the onus will be placed on them to succeed in the power rushing game. 
It would also be in your best interest to pick up the first down when you have third-and-1  yard to go deep in your own territory. When none of those things happen, you tend to get a result that was seen this Saturday, as Penn State thoroughly dominated Michigan State throughout the course of the game en route to a 28-7 victory.
Starting halfback Elijah Collins mentioned how the second bye week comes at an opportune time for the Spartans.
"You can look at it however you want to look at it. I think it's a good thing for us to recuperate and get healthy."
Unfortunately for MSU, an area of concern all season reared its ugly head yet again in the first quarter, when after a gain of seven on first down, the Spartans would be overpowered at the point of attack and be forced to punt, after being unable to pick up one yard on third and short.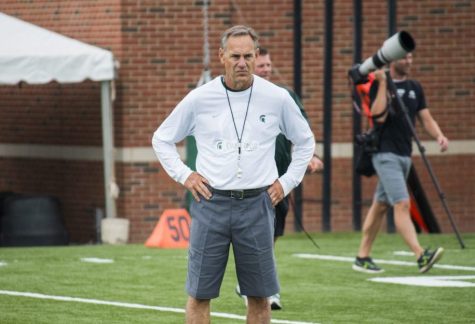 This gave Penn State a short field, and as well coached teams usually do, they made MSU pay with a strike from quarterback Sean Clifford to Pat Freiermuth, who looked more like Tony Gonzales in his prime than a college tight end. Joe Bachie mentioned how the Spartans had seen the same play run that Freiermuth scored on against Pittsburgh.
"We saw it on film. They ran it against Pitt and got a pass interference, even though it was an interception. They also ran it against Iowa and it worked. We've seen it" 

Dropped passes, missed blocks and gap assignments, as well as sloppy tackling were yet again the main theme in a season that is rapidly going south for the Spartans. It was fitting to watch Michigan State mount an eight-minute drive that stalled out within Penn State territory. 
Desperately needing points of any sort, Matt Coughlin, who has struggled mightily lately, had his kick blocked and returned by Penn State. All of that for nothing. The only thing that drive ended up doing was giving the Nittany Lions a short field to work with.
Penn State would punch it in. Going back to the Ohio State contest, MSU had been outscored 93-10 as halftime commenced in this ugly affair.
These last three weeks have made it abundantly clear that the Green and White are no longer part of the Big Ten conference elites. The 2013 Rose Bowl win and 2014 Cotton Bowl win seem like eons ago, especially considering the remarkable level of mediocrity that has defined the Spartans in three out of the past four years. 
The days of MSU being a physically dominant foe who would beat you like a drum in the trenches also appears to be long gone.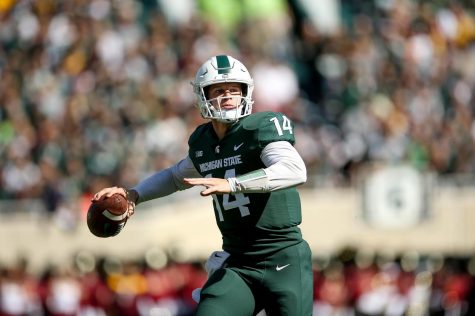 Even defensive coordinator Mike Tressel's side of the ball has shown a rapid downturn in play each of the last three weeks. Wasn't this supposed to be a defense that would save the often dormant Spartan offense? Why do the results seem to signify the absolute opposite? 
The old order of this program seems to have been swept away in a cruel and unnerving way. 
Not enough can be said or enough credit given to head coach Mark Dantonio in rescuing the Michigan State program from being the former laughingstock that it was. Not since Duffy Daughtery has an MSU coach been so revolutionary on the gridiron in demanding excellence on each and every down.
It is a natural occurrence for those who emotionally invest themselves in this team to be frustrated with the current product on the field, because the 2013-15 seasons established a precedent that those in attendance have begun to expect. After all, when you see the best of something, how can you demand or accept anything else? 
Perhaps it was irrational to expect this MSU team to go on the road and knock off Ohio State and Wisconsin. After all, playing at Ohio Stadium and Camp Randall Stadium back to back is about at tough of a two-week slate as any one team can be exposed to.  
It is not nearly as irrational, however, to expect this team to make those games competitive. Simply put, being outscored 93-10 through two and a half games is not acceptable. As a team, there will be times when you can scheme a team well and it still won't be enough.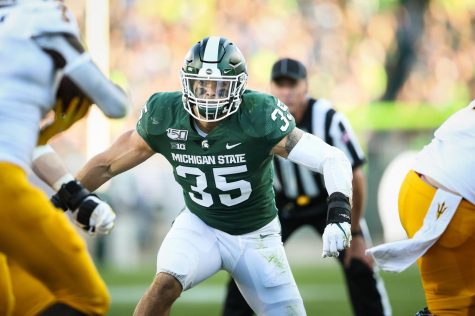 Sometimes, another team will just be better than you. What this team could control however, was playing assignment-sound football. That mark has not been close to being met in these last three games. 
Instead, sloppy execution, drops, missed tackles and players being out of position seems to have become the norm. And that should not be acceptable. Not after seeing what this program is capable of.
In the postgame presser, Dantonio mentioned how the team needs to be better.
"We need to do better. We have to do better, so we have a week to collect ourselves."
It seems that we are at a crossroads for the Michigan State football program at large. With yet another season down the drain and a strong defensive core graduating, the program finds itself in a dark place. 
The fact that MSU seems to be at the same performance level as Indiana and Maryland right now should bother anyone who cares at all about the state of the program. Furthermore, with a streaking Illinois team awaiting the Spartans off the bye and a rivalry game with Michigan still looming, it is not out of the realm of possibility for Michigan State to go 6-6. 
As the conclusion of this lopsided affair went final, it bears noting that MSU is now 23-22 going back to 2016. What does that record say about this team? That it is mediocre. In other words, it's time to embrace the mediocrity.
Contact Nathan Stearns at [email protected] Follow him on Twitter at @NathanStearns11.