Spartans travel out west to take on Colorado College
EAST LANSING – The Michigan State Spartans travel out west to take on a talented Colorado College team for the first time since 1981. This will be the first weekend series between the two teams since Michigan State left the WCHA.
Colorado College currently sits at 1-1 after splitting a series with Minnesota two weeks ago, but the team has not played since.
Michigan State comes in at 1-1 as well after splitting a series with Northern Michigan, but the Spartans did play the USNTDP one week ago, winning an exhibition game by a final score of 2-1.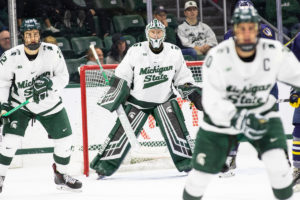 The Tigers will be no easy matchup for the Spartans, as they currently sit in the top 30 in the hockey poll on USCHO.com. Colorado College also has a couple forwards off to hot starts. Through two games against Minnesota, the Tigers have two players who have scored five points. 
Senior Chris Wilkie is a Florida Panthers draft pick and tallied three goals in the first weekend series of the year. Nick Halloran is a senior as well who has started red hot. Halloran tallied five assists against the Golden Gophers, so he will be a player the Spartans' defense definitely needs to keep an eye on—especially when Colorado College is on the power play.
Speaking of the power play, that will be an area that Michigan State needs to drastically improve in if they want to beat any good teams. Michigan State went 0-for-5 against Northern Michigan on the power play on Saturday and a shocking 0-for-7 against the USNTDP. Michigan State starts a stretch of games against tough opponents, and if they want any hope of staying with the potent offenses they will match up against, they will have to capitalize on the man advantage chances they get. 
Colorado College does play on an Olympic style ice sheet, so if Michigan State can use the extra space to find an open man, they should be able to fix their special teams woes.
Outside of a fluky goal in the second game against Northern Michigan, the Spartans have had quality goaltending during every game this season, and that will need to continue if Michigan State wants to come home with a win or two.
This game is pretty even on paper, but will likely come down to two factors — both on the Spartans' end. The Spartans' power play percentage, and how well the Spartan blue line is able to adjust to the larger sheet of ice, but still stay physical and minimize the Tigers' speed.
Contact Kyle Hatty at [email protected] Follow him on Twitter @KyleHattyIN.