Michigan State turns focus to Northwestern as Michigan, Indiana loom on the horizon
Ian Gilmour, Men's Soccer Beat Reporter
October 25, 2019
EAST LANSING – The importance of Michigan State's final three regular season games cannot be overstated enough. 
Their season may hinge directly on them. 
The narrative about MSU's "fall from grace" after last year's run to the College Cup is past. 
They now are trying to write another narrative. One which concludes with a Big Ten Championship.
Now, there's a couple ways they can do that. But the real question is, can they do it at all?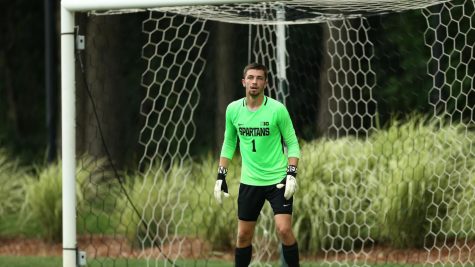 Winning the Big Ten Tournament means an automatic bid into the NCAA tournament, and winning the Big Ten regular season championship, even with a sub-par overall record should be good enough, right?
Well, that scenario is still a long way off and is a conversation for another time, if it all comes down to that.
For now, MSU is focusing on its last three games, the first two of which are on the road, in some of the most challenging environments in Big Ten soccer. 
The first test is against a stickler Northwestern side that has had one of  its most inconsistent years in recent memory, not to mention playing in Evanston is never an easy task.
This Northwestern squad boasts a 3-1 win against defending national champs Maryland, IN College Park, arguably the most difficult venue to play at as an opponent of the Terrapins. 
The Wildcats have also taken perennial powerhouse UCLA to overtime, and lost 3-2 to then-No. 10 Penn State. They secured a win against UIC, an NCAA tournament team from a year ago, but also have some ugly losses throughout this up and down season. 
Tim Lenahan, winningest head coach in program history, is in his 18th year at the helm and is no stranger to success. Northwestern has been to the NCAA tournament nine times during his tenure.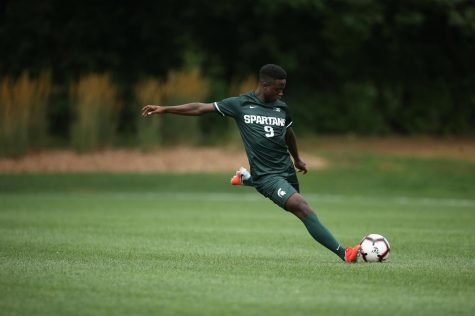 Back again in between the posts is steller goalkeeper Miha Miskovic. Miskovic played out of his mind when the Wildcats visited East Lansing last year, being the main reason Northwestern salvaged a goalless draw against MSU. 
The troubles for Northwestern this year have been on the attacking side of the ball, much like it's been for MSU, though Northwestern hasn't been derailed by injuries in the same way MSU has.
Northwestern doesn't have a goalscorer who has cemented himself as the "main man", at least not yet, just as the Spartans don't that guy either (at least on paper). 
On Friday, it will simply come down to who wants it more. The possibility of hosting a home game in the Big Ten Tournament is on the line, even for Northwestern.
And for MSU, there's more on the line in this game and the two after it, than just hosting a Big Ten tournament. 
They've got a chance to salvage their season.
Contact Ian Gilmour at [email protected] Follow him on Twitter @IanGilmour04.