Spartans win when it counts during split weekend
EAST LANSING – Michigan State volleyball stayed at a respectable .500 in Big Ten play this weekend, dropping its Friday night game at No. 5 Nebraska 3-1 and outlasting Iowa 3-2 in Iowa City. 
Though a split weekend might seem disappointing at first glance, taking a set off a top-five team is no small feat. Nebraska could safely be penciled in as a loss in the preseason, but MSU showed a lot of fight against them.
More encouraging was the win over Iowa. Although Iowa is unranked and did not project as a threat coming into the season, they still swept the season series against MSU last year.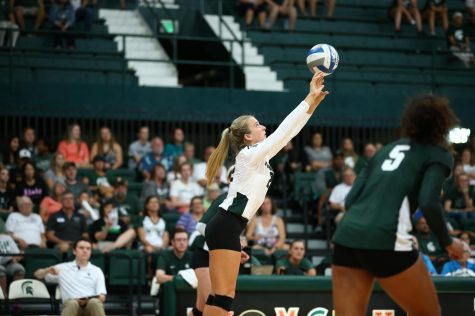 They also have taken sets off better Big Ten teams recently like Michigan and No. 7 Minnesota. So even though the Hawkeyes forced the Spartans to five sets, MSU has to be happy about beating a team that had their number last year. 
If this year's team wants to make a statement in Big Ten play and establish that it's truly better than last year's basement-dwelling squad, it needed to win games like this. 
Another aspect that the Spartans showed improvement on was in errors. Though the 32 attack errors committed against Nebraska was not a strong start, elite teams like the Huskers will force that number. 
Against the more manageable Iowa squad, the Spartans committed only 14 despite playing an extra set. Other errors that had been plaguing MSU through non-conference and early Big Ten play, like service errors, were nowhere to be found against either team, a refreshing sight. 
The Spartans also put up an exceptional attacking performance against Iowa. Junior outside hitter Alyssa Chronowski recorded 24 kills, one shy of her career high. She's been limited due to injury and has showed some rust since she got back, so to see a breakout game like that was impressive. 
Her partner on the outside, Meredith Norris, continued her strong year with 15 kills as well. Together, when those two are firing, MSU's offense is hard to stop.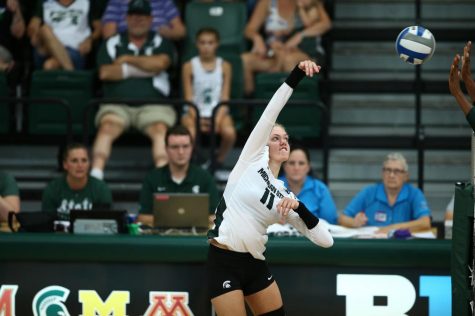 Against Nebraska, the attack was not there. The Spartans hit under .100 in three of the four sets. They were out-blocked 14-9 and trailed in every major statistical category. Only Norris hit more than ten kills in the match, recording 11. But that's something that you would expect from a team with such a massive talent advantage.
"The schedule will eventually be in our favor with a lot of home games coming up later in the season for us, but I have liked a lot of what I have seen from our team as we've navigated this tough stretch," MSU head coach Cathy George said. "We still have a lot to work on and clean up in our game, but this was a great way to wrap up this stretch."
The Spartans' next game against Rutgers will be another important measuring stick. Rutgers is also a bottom-tier Big Ten team, but they had some surprisingly close sets in their recent loss to Maryland, who beat MSU the last time they played. 
Last year, the Spartans needed extra sets to beat Rutgers both times as well. Given the improvements this year's team has shown, anything less than a sweep should not be considered a success. 
Contact Ian Drummond at [email protected] Follow him on Twitter @idrumma.