Spartans fall to Penn State in first Big Ten game at DeMartin Stadium
EAST LANSING, Mich. – On a mildly soggy evening at DeMartin Stadium, the Michigan State men's soccer team fell to the Penn State Nittany Lions by a final score of 3-0. 
The Spartans went toe-to-toe with the Nittany Lions in the first couple of minutes until freshman forward Liam Butts put a top-shelf goal past MSU goalkeeper Hunter Morse in the 28th minute. 
Offensive struggles seemed to be the theme once again, as the halftime buzzer sounded and not a single shot on goal for the Spartans was registered. This would need to change quickly if they wanted to compete with the 4-1-2 Nittany Lions.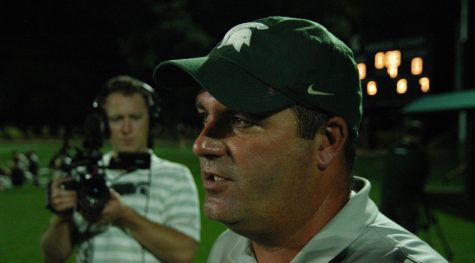 Early in the second half the Spartans came out firing, but were unable to convert any shots into the back of the net. 
"They sold out in the box, like they blocked a couple of Nick Stone shots in the corner," MSU head coach Damon Rensing said. 
"They did their critical defending in the box that I thought was good, and we were not as good in those moments inside the 18," he said. "You can be good and bad in here, but at the end of the day you have to take care of your two 18s."
Just 15 minutes into the second half, Penn State captain Aaron Malloy had an excellent chance at goal but was denied at point-blank range by Spartan senior defender Michael Wetungu. This save was crucial to keeping the Spartans within striking distance. 
Eventually, Penn State found the net in the 68th minute on a beautiful trap and first touch from freshman Andrew Privett. The assist came from redshirt freshman Josh Dabora, his first of the season.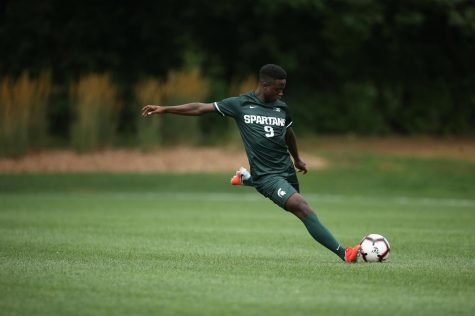 Just over 10 minutes later, the Liam Butts and Pierre Reedy combo struck once again, with Butts getting his second goal and Reedy with his second assist of the game. The Penn State midfielder and forward combo was the one-two punch today that put Michigan State in many tough situations. 
Michigan State showed signs of fatigue late in the match and ultimately couldn't gain any momentum to rally against a tough Nittany Lions team.
"I see (the fatigue) in some subtle things, guys are playing 90 minutes a game and the college season is crazy and it makes no sense to play three games a week every week, Sunday-Wednesday-Sunday kind of deal," Rensing said. "I think there are some moments where the fatigue sits in just with how thin we are right now."   
The Spartans will be back in action next in Madison, Wisconsin to take on the Badgers on Sunday, Oct. 6 at 1:30 p.m. on BTN.
Contact Sutton Magee at [email protected] Follow him on Twitter at @suttonmagee12.