Menacing gauntlet awaits Spartans during first extended road trip of season
EAST LANSING, Mich. – The training wheels are about to come off for a young Michigan State field hockey team. They have enjoyed a schedule that has featured seven consecutive home games over the last two and a half weeks.
That script is about to be flipped on its head when the Spartans embark on a two-week road swing that will feature three consecutive ranked opponents in Northwestern, Iowa and Michigan.
It has taken the 2019 Spartans all of eight games to match their win total from last season. Sophomore goalie Jade Arundell, who has been nothing short of sensational in her second year of receiving regular starting action, has been a principal reason why the Spartans were able to catapult their way into the Penn/Monto NFHCA top 25 for the first time in four years.
"Last year overall was a very disappointing year just in our ability to perform and get wins," head coach Helen Knull said. "We struggled to play together as a team last year, whereas this year that isn't a problem."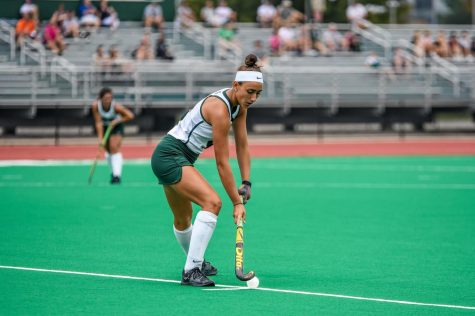 Combine that with the scoring prowess of junior Lia Sinisi and freshman Nienke Bloemsaat, and the Spartans have gone from conference doormat to a budding squad on the verge of being one of the conference elites.
Out of the nine schools that possess field hockey programs within the Big Ten, seven are ranked, including four within the top 10. The Spartans will square off against three of those top 10 squads, starting Friday at No. 7 Northwestern.
Northwestern, Iowa and Michigan are ranked No. 7, No. 8 and No. 9 in the most recent Penn/Monto NFHCA poll, and when combined, these Big Ten powers combine for a remarkable 18-6 record. It's easy to say that MSU will need to be firing on all cylinders to have a shot at stealing a signature win on the road. 
The grittiness and general lack of quit in the Spartans will serve them well when things inevitably go wrong at certain junctures during next three contests. Yielding corner opportunities has been a chronic flaw that plagued the Spartans in early-season matchups against top-10 foes UConn and Louisville.
It will be key for MSU to make these three formidable opponents to earn their goals without being bailed out by silly mistakes and poor execution within the Spartan defensive zone.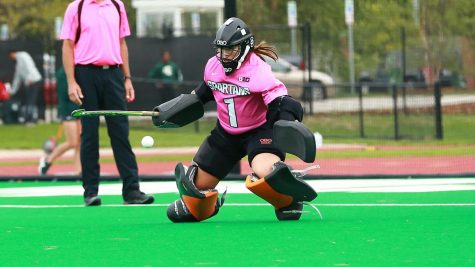 All in all, the talent and attitude of this team is such that they are more than capable of going into any venue and knocking off anyone. A successful stretch over these next few weeks would serve as an official inauguration into the upper echelon of Big Ten squads.
These young Spartans will most certainly be knocked around at times during the next three contests, and it will be how quickly they are able to make adjustments and clean up errors that will determine the overall success of this road trip, and by extension, the season.
Contact Nathan Stearns at [email protected] Follow him on Twitter at @NathanStearns11.