Joe Bachie named Big Ten Defensive Player of the Week
EAST LANSING, Michigan – Senior linebacker Joe Bachie recorded 14 total tackles, two pass breakups, one sack, two tackles-for-loss, a quarterback hurry and an interception in now No. 25 Michigan State's 31-10 victory over Northwestern on Saturday.
The Spartans moved to 3-1 with the win and defeated Northwestern for the first time since 2013, which coincidentally also was at Northwestern. The Wildcats are now 2-1 on the year.
The 14 total tackles (13 solo, one assist), is a career high for the Ohio native, who also had a double-digit tackling game for the 11th time in his career.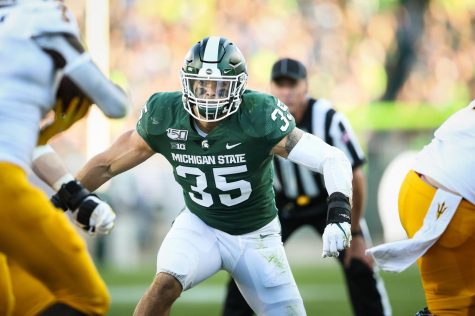 A three-star recruit coming out of Brooks Park, Ohio, the senior led the team in total tackles last year with 102 total tackles and again leads the team this season with 39 total, good for second in the Big Ten conference. He also is tied for the team lead with four pass break-ups so far this season.
Bachie last earned the honor on Nov. 5, 2018 in a 24-3 Spartan victory over Maryland when the team captain forced three fumbles and had seven tackles. Bachie's interception on Saturday was also the fifth of his career.
MSU will matchup with Indiana on Saturday, Sept. 28. Kickoff is at 3:30 p.m. and you can find the game on Impact 88.9 FM in the Lansing area.
Contact Joe Dandron at [email protected] Follow him on Twitter at @JosephDandronMI.