Following a strong finish to 2019, Spartans enter fall with plenty of momentum
EAST LANSING, Mich. – After a productive performance in the annual Crosstown Showdown and better results during the second half of the 2019 season, Michigan State now looks to carry its momentum into the team's fall training, which runs until October. 
The Spartans fell to the Lansing Lugnuts 5-1 on Tuesday night, and even though it was Lansing's eighth straight win over MSU, there were a number of positives that head coach Jake Boss took away from the contest. 
"We played well for this being the third practice of the year," Boss said. "There's also a lot of things we can learn from tonight. You put a little bit of stock into what happened tonight, both on the good end and the bad end."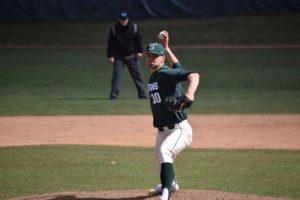 One of those positives was the performance of right-handed starter Mason Erla, who's expected to once again enter 2020 as the Spartans' Friday night starter. Erla was able to record a quick one-two-three first inning, including forcing a groundout from Blue Jays No. 14 prospect Leonardo Jimenez and a foul out from No. 9 prospect Miguel Hiraldo.
Freshman outfielder Jack Frank was another bright spot from Tuesday, as he finished 1-for-3 and played a flawless center field in his first action as a Spartan. Frank, the highly-recruited prospect from Strongsville, Ohio, hit third in the Spartans' lineup and looked poised and confident in his debut.
"Mason [Erla] was good," Boss said. "He threw a lot of innings for us last spring and we shut him down for the summer. You saw how hard he worked this summer, he was ready to go tonight."
Aside from the productive showing against Lansing, Michigan State will also look to carry a strong finish from the 2019 season into the team's fall training. The Spartans struggled in non-conference play last season but concluded the year by winning 10 of their final 17 games and three of their four Big Ten series. 
Two of the final four Big Ten series wins came on the road against formidable Iowa and Purdue teams, with the Spartans also grabbing a win against No. 23 Illinois during the final series of the season. After winning just three of its first 21 games, Michigan State was able to put up an 11-8 record at home along with the stellar finishing stretch.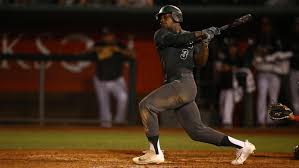 "The character of our guys," head coach Jake Boss credited for his team's second-half surge. "It could have been really easy for us to pack it in at a certain point last year. They work hard, they continue to play hard for each other and for Michigan State. They finished the last half of the season on a good note, there's a lot to build on."
The Spartans did lose two pitchers to the Major League Baseball Draft who would have been eligible to return in 2020, as then-juniors Mitchell Tyranski and Indigo Diaz chose to sign professional contracts after being selected. 
Tyranski was drafted in the 12th round by the Los Angeles Dodgers and Diaz was selected in the 27th round by the Atlanta Braves. Senior infielder Marty Bechina was also picked in the 32nd round by the Oakland Athletics. 
Two incoming freshmen who were expected to make an immediate impact, two-sport athlete Jase Bowen and pitcher Chris Mokma, brother of current Spartan Mike Mokma, also opted to sign professional contracts after being drafted into the majors. Bowen was selected in the 11th round by the Pittsburgh Pirates and Mokma was drafted in the 12th round by the Miami Marlins. 
"Obviously we lost some guys to the draft, which is a feather in the cap for our program," Boss said. "It gives other guys an opportunity moving forward. What they do with that opportunity, a lot of that will be determined by what happens this fall."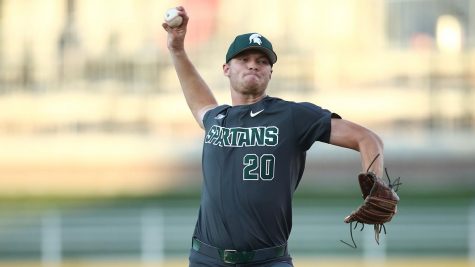 Michigan State will still get reinforcements with Frank, who was ranked as the No. 3 overall player in the state of Ohio by Prep Baseball Report, and fellow freshman Adam Berghorst, who will play defensive end for Mark Dantonio in the fall and pitch in the spring. The 6-foot-7, 265-pound Berghorst chose to attend MSU after being drafted in the 14th round by the Texas Rangers. 
Armed with promising freshmen, a productive performance in the Crosstown Showdown and a strong finish to last season, Michigan State will look to establish a winning culture this offseason, starting with fall training and intrasquad games.
"We've got six weeks of fall ball, we have a long way to go," Boss said. "Guys are going to have an opportunity to work on a lot of parts of their game and get a lot better."
Contact Luke Sloan at [email protected] Follow him on Twitter @LukeSloan_7.