Willekes nabs Big Ten, National Defensive Player of the Week honors
EAST LANSING, Mich. – Michigan State and Kenny Willekes closed out friday evening with a dominating win over Tulsa. 
Willekes was rewarded for his impressive stat line against the Golden Hurricane: 7 tackles, 1 sack, 2 TFLs with two fumble recoveries, one for a touchdown. Willekes was awarded the Walter Camp Defensive Player of the Week award and the Big Ten Defensive Player of the Week award this past weekend for his efforts.
"It was pretty cool to score my first touchdown," Willekes said after the win over Tulsa. "Shout out my dog Raequan (Williams), he punched it out for me right into my arms. Thank you Raequan for my first touchdown. It speaks to our chemistry on defense and how much work we put in, in the offseason. You can see how dominant we are. When we play together, we all do our job. It was good to see and it felt good to be back out there."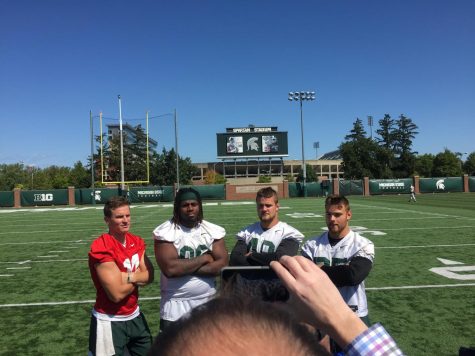 The senior was tabbed as a preseason All-American by the Associated Press alongside linebacker Joe Bachie.
The Grand Rapids native let the team in tackles against Tulsa, and is coming off a season in which he was named Big Ten Defensive Lineman of the Year and gained All-American recognition – on top of leading the Big Ten in tackles for loss. 
The play that helped Willekes gain the player of the week awards was one where Raequan Williams came in and forced the ball out into the end zone when Tulsa quarterback Zack Smith was in the shotgun. 
Willekes just happened to be in the right place at the right time as the ball was popped loose, he flew in to jump on the ball and finish the play, one that was the tip of the iceberg in a dominant showing. 
The defense allowed -73 rushing yards and 80 total yards for the game. Tulsa was 2-for-11 on third down conversions, a huge reason why the Golden Hurricane were only able to gain eight first downs on the night.
Contact Joe Dandron at [email protected] Follow him on Twitter at @JosephDandronMI.