Dandron: Game against mid-major Tulsa now a major moment in Dantonio's tenure
For as small an opponent, the lights are even brighter as fans await a different offense
EAST LANSING, Mich. –  This weekend, the euphoria of college football will beckon fans back to East Lansing.
Those cold Saturday mornings at Michigan State, warmed by beer and heaters underneath tents – with the same fans sitting underneath those tents lining the stands hours after arriving to the city, ready to rain down boos if the product they see does not suffice.
Maybe even once again chanting for an unproven then-freshman after an injured Brian Lewerke did everything he could with a bare-bones receiving core to lead the team. Many forgot that sophomore Lewerke led nearly the same roster to a 10-3 record with a Holiday Bowl victory over Washington State the season prior.
Yes, last year's Michigan State team underperformed, as preseason hype followed them so heavily it was surprising to see the roster crumple, eventually physically, under the same pressure poured upon them.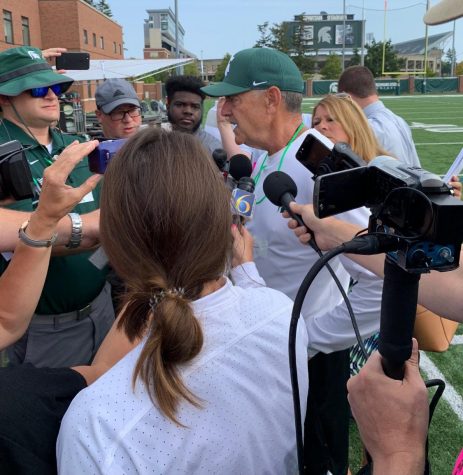 The offense, enlisted the help of many who may have never expected to play last season. Star receiver Felton Davis III was one major blow, the emotional leader eventually carted off against Michigan, defeated by his own Achilles heel. The glut of injuries along the offensive line that never could gel, and subsequent calls for former offensive coordinator Dave Warner to step down also plagued the embattled unit.
An award-winning defense, led by defensive end Kenny Willekes and middle linebacker Joe Bachie, only allowing opponents a mere 17.2 points per game, is expected to be even better this season.
Yet, it was unable to lift the team last season, even if it was a few plays away from nine wins.
That's how MSU arrived at this point.
Every single eye will be on Mark Dantonio Friday night at Spartan Stadium, and as the helmets of linemen crack for the first time, 2019's opener has become one of the biggest in Dantonio's tenure.
"Even though we've been here 13 years, going on 13, it's still the same type of feeling," Dantonio said at his weekly press conference on Tuesday.
"There's anxiety, there's emotion, there's excitement. You want to make sure everything is right. When the ball is kicked off, you need to be ready to go. That's what we're going to do as a staff, as a football team, and me for myself."
Check out this weeks #SpartanRedzone on @WDBM's website from @RyanCollins524, @amac595, @TheAidanHunt, @JosephDandronMI and guest picker @ebach21.https://t.co/DShY1bIrmd

— Impact 89FM Sports (@WDBMSports) August 29, 2019
Not specifically, due to the opponent this Friday, as Tulsa is 5-19 during the previous two seasons, but exorcising the demons of last year's offensive crumble seems more daunting.
The Spartans may reap the benefits of injuries – in the best way any team can I suppose – giving those who may not have thought they would step between the lines until this season the experience they need now.
That could help the offense, which is exactly what offensive coordinator Brad Salem needs. Salem and Dantonio will hold their collective breath until the silence is broken.
Until the same team that couldn't score a touchdown at Nebraska last season breaks the plane and puts six up above those screaming fans' heads.
Lewerke, an offensive line that now has health with the exception of Cole Chewins, experience and several skill position players trying to make noise this year will buoy the offense this Friday.
As the seat somehow got hot last season because of an offense that was without so many contributors, Dantonio had many questioning his ability, even despite the fact that he has won nearly 70% of his games.
That is how this game became so big.
Tulsa, the Golden Hurricane, of all teams, became the victim of Mark Dantonio having to prove that an offense that was so anemic last season can once again provide the meal of points to its hungry fans.
And lying in wait is that Kentucky bluegrass field.
Twitter: @JosephDandronMI
Email: [email protected]