Pitchfork: The Best Music Festival in Chicago
I've attended Pitchfork Music Festival twice and I'm looking forward to going again this year. The first year I went right after I graduated high school in 2014. That year, I saw Kendrick Lamar, Earl Sweatshirt, Grimes and more of my favorite artists. I also went last year, in 2018 while covering the festival for Impact. This year I will be working the festival again. Pitchfork normally has a solid lineup every year that features alternative, hip hop, pop, electronic and folk artists. In my opinion, a lineup that has a diversity in genres is a strong one, but it isn't only the lineup that makes Pitchfork my favorite music festival in Chicago.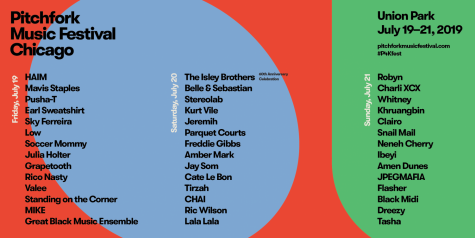 The Venue
Union Park is located on West Randolph St. right off the CTA Ashland stop, so it's simple to get to if you take the pink or green line. The venue size makes it super easy to go from stage to stage and catch all the shows. Inside there are three stages- the main stages, green and red are right next to each other and the blue stage tucked away on the other side of the venue underneath a tree. Because of the proximity of the red and green stages, it is easy to catch each of the back-to-back sets at each stage.
The food is located in a long line that starts near the blue stage and ends near the vendors. The food is pretty accessible from wherever you are inside the festival, and that brings me to another amazing part about Pitchfork. 
The Food
The food at Pitchfork is amazing. From fair food and vegan options, to local Chicago vendors, concert goers are bound to find something they will love. My favorite place to go every year is The Chicago Dinner booth. You can get a vegetarian corn dog and waffle fries for about $6, and it's an unique item because it is not sold at their restaurants in the city. Besides this duo, there are also lots of cheap options for food at this festival. I never find myself handing over $9 for a slice of mediocre pizza, like I've done at some other festivals. There are so many options whether you want inexpensive, vegan/vegetarian or gluten-free. 
The Crowd
Out of all the city music festivals I've been to, Pitchfork has my favorite crowd of people. Everyone is pretty chill, and seems like they really care about the music. I've participated in some awesome mosh pits to artists like Cloud Nothings, Schoolboy Q and Danny Brown. Some of the other city music festivals I've been to consist of jerks- people who yell "no pushing" when near the front of the show, and people who don't know their alcohol limit. At Pitchfork, the crowd consists of real fans that are excited to be a part of it all.
The Vendors 
At Pitchfork there's a whole tent full of vendors selling one of a kind music, jewelry, clothes, decorations and more. There are also vendors who will give out free drinks and snacks. One year, one of my friends came home and dumped out his entire backpack that was filled with free Twinkies people were handing out. Some of the other free items handed out include silk-screened shirts, stickers and refreshments. So if you have some time between sets make sure you check out the vendors and grab some of the free stuff.