Spartans swept by Northwestern after struggling in Saturday's doubleheader
EAST LANSING, Mich. – Having the ability to put a subpar performance in the rearview mirror is something that is often one of the most important skills any athlete can learn.
After being knocked around in a forgettable performance last night, McKenna Gregory was slated to start in the circle a mere 14 hours after she was relieved last night. Unfortunately for the Spartan ace, the opening act of Saturday's doubleheader yielded more of the same results, as despite a solid overall effort, the Spartan sophomore received little offensive support and was charged with her second loss in less than a day.
GAME ONE: Northwestern 6, MSU 2
The Wildcats rocked Gregory for two runs in the first and this proved to be the catalyst that starter Danielle Williams needed in yet another successful complete game outing for Northwestern pitching. Her elite performance propelled Northwestern to a 6-2 wire-to-wire victory.
Gregory made the one cardinal sin early that a pitcher cannot do if they wish to have a quality outing, walking the leadoff batter. This free pass would prove to be costly as it opened the door for an early two-run frame for the visitors.
MSU was able to get a much needed run back in the bottom of the first, as Caitie Ladd led off the inning with a double. After reaching third on an error, Ladd trotted home courtesy of a deep sacrifice fly by Charla Echols.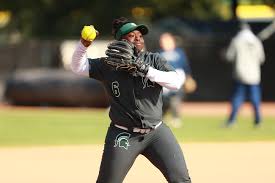 Gregory would give up one more run in the fifth that stretched the Northwestern lead to 3-1. All in all, she threw five innings and was charged with 4 earned runs. With the way Williams was pitching, it sure felt like the two-run deficit MSU found themselves in was more like a four or five-run deficit.
Two errors in the sixth allowed for the Northwestern lead to quickly expand to four for the young Spartans. Combine that with a stellar outing from Williams and MSU dug itself into a hole that was a bit too big to climb out of in game one.
The final game in this weekend set followed the same script from the previous two contests, as the Wildcats jumped out early and ambushed yet another MSU pitcher. This time it was Maeve Nelson who made Alli Walker pay, with a 2-run moonshot out to left. At the end of the mercied game, Northwestern blew out the Green and White by a final score of 10-1 and headed out of East Lansing on a high note.
McKenna Gregory, who had already started the first two games of the series, was called on once again to try and give the bullpen some length. She was greeted with three earned runs in the top of the third.  Unlike the first game, MSU's pitching staff struggled mightily to limit the damage with runners on.
GAME TWO: Northwestern 10, MSU 1
"I think their pitchers were doing well," said Gregory. "They gave up four runs in the first game, but they continued to give up less. When we would score, they would come back and pitch strong."
When asked about what MSU would need to improve on against Rutgers, Gregory mentioned needing to be consistent on both facets of the game.
"This weekend was actually good for us, because we saw that we could score runs and give up less runs. I think we just need to put them together."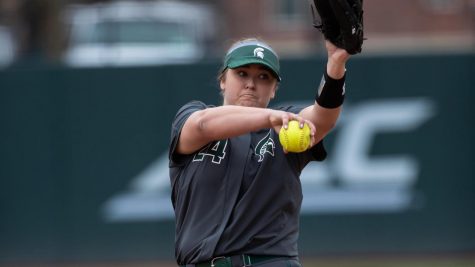 Kaley Winegarner made sure that any hope MSU may have had was squashed early and often with the third dominant pitching performance for Northwestern in as many games by pitching all five innings of one run ball.
It was an overall forgettable series for the Spartans, as they never led in the entire weekend series. A large part of that was due to the fact that Northwestern excelled at jumping on the Spartan hurlers early and making the young Spartans play from behind. That combined with the star pitching prowess of the conference-leading Wildcats kept the green and white off balance through the entirety of this three game series.
"We know why Northwestern is contending for a Big Ten championship," said MSU head coach Jacquie Joseph. "I think they did everything they needed to do to make sure that we didn't get a chance to get into any game. I think their one through nine is the best that we have faced."
With the doubleheader defeat, MSU drops to 15-32 and 3-16 in conference play on the season. They will head out for Rutgers in what will be the final series of the regular season. That game will kick off on Friday afternoon at 3 p.m. in Piscataway, N.J.