Sidney Cooks is out, now what?
The sophomore forward Cooks announced her plans to transfer last Friday
Sam Britten, Women's Basketball Beat Reporter
April 15, 2019
The WNBA draft generally occurs a short time after the NCAA tournament comes to a conclusion, and because of this, announcements from players on their decisions to play professionally come very quickly.
Notre Dame's Jackie Young, the first overall pick in this year's draft, announced her decision to forgo her senior year the day after the championship game. Men's basketball players have more than two and a half months to make their final decision depending on how far they go in the season.
Michigan State didn't have any players declare for the draft, but one Spartan has made the decision to not return for next year. Forward Sidney Cooks announced Friday on Twitter that she will not be coming back to Michigan State next season.
— Sidney Cooks (@Simple_Hooper) April 12, 2019
A McDonald's All-American and the fifth-ranked recruit according to ESPN in 2017, landing Cooks was "victory for MSU," to see her go is quite the opposite.
The sophomore played in 30 games this past year, starting eight. Cooks averaged 9.5 points and 4.5 rebounds per game while shooting 48% from the field. One of the best players off the bench, her presence was felt in each and every game she played.
Many assumed her to be the replacement for Jenna Allen, adding to a promising outlook for Michigan State headed into next season. Cooks' departure now likely forces expectations to sink for the upcoming season.
Although she hasn't said where she will transfer, it can be assumed Cooks desires a team that will continue to develop her as a player, like most transfers.
She was better in the role of sixth man, but that didn't take away from the fact that Cooks could play. Her impact was still felt on the court, as she was one of just three players to score in double digits against Notre Dame, leading her team with 17 points.
Next to Allen, she was the team's best big. The question must now be asked, how will her departure affect next year?
It was already expected that Tory Ozment and Kayla Belles would be getting more minutes regardless of what happened in the offseason, Allen and Cooks leaving will give them even more. The two showed promise throughout the year, as Ozment scored in double-digits for four consecutive games and Belles had a few games of five or more rebounds and a handful of points.
Belles and Ozment did struggle with injuries this past season and another season with scattered injuries from these two would make matters difficult. It's hard enough to fill the hole left by Sidney Cooks as it is, but these would be the two slightly-seasoned veterans poised to do it.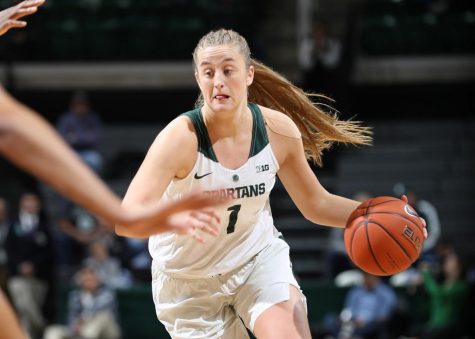 Ozment is a two-position player who can also play guard, a position she very well may be used at. A player that could also be used to fit the role of center or forward is incoming freshman Cydni Dodd.
The 6-foot-5 center from Indianapolis was dominant in high school, winning a state championship her junior year. She is ranked the 84th best player in the nation and 14th at her position by ESPN. Suzy Merchant spoke highly of her basketball IQ as a center and is excited to see what she can do.
Losing Cooks hurts big time, there's no hiding that. Expectations were high going into next year, but they have taken a hit with this news. There isn't much Merchant can do except hope that players step up and do their jobs.
Cooks was a great player, and her statistics prove that. She will make the next team she goes to better, but leaving the Spartans will most definitely hurt her now former team.