Spartans will once again go offense versus defense for spring game
EAST LANSING, Mich. – For the third straight year, Michigan State football will pin its offense against its defense in the annual spring game this Saturday at Spartan Stadium.
The format wasn't announced until Thursday night, less than 48 hours away from the 2 p.m. start set for Saturday. The Green and White game will have the offense play against the defense, as opposed to a draft. Head coach Mark Dantonio decided to switch to offense and defense in 2017.
The first-team offense will play against the first-team defense. Then the second-team offense and defense, and so on. The scoring system is the same for the offense, while a modified points system is made for the defense. The defense can score in a variety of ways, like turnovers and sacks.
Senior linebacker, Joe Bachie expects to be out there playing on Saturday, just with a limited number of reps.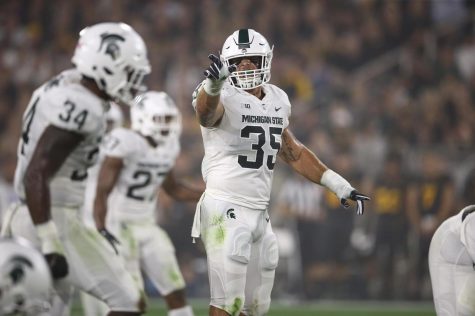 "I'm planning on playing, hopefully not 60-70 snaps." Bachie said. "But I'm going to be out there, I'm going to be playing, having fun."
A format like this allows for the teams to stay together. The first-team offense and defense are able to get all their reps together. It allows for players to play alongside guys they will be playing with going forward. This is opposed to the draft format, where two teams are drafted by players.
Bachie was on the team when it still utilized the draft format for the spring game back in 2016, when White defeated Green 14-11.
"I could have put together a squad, I know that," Bachie said.
The offense and defense have split the first two games. The offense won the first year in 2017, 33-23, while the defense won last spring 32-30.
Michigan State started spring practices back on Mar. 14. The team is allowed 15 spring practices and the spring game will be number 14. Their last practice of the spring will be held on Tuesday, Apr. 16.