Baseball Notes: Spartans enjoying success behind improved pitching
After weeks of struggles and inconsistency, Michigan State may have finally found its groove, quietly winning three of five games thanks to improved pitching. The overall numbers still aren't up to par, as the staff owns a 5.74 ERA on the season, but steady improvements have led to a stellar stretch.
The Spartans received three of their best starts this season during last weekend's Indiana State series, as the team parlayed those performances into a series victory over the Sycamores. Mason Erla kicked off the weekend on Friday night, throwing a career-high nine innings while allowing only two hits and no earned runs in an extra-inning win.
Mitchell Tyranski would follow Erla's career outing with one of his own, giving up three hits and two earned runs over a career-high seven innings. He would not earn a victory, but Sunday's starter Caleb Sleeman did. He threw, wait for it, a career-high 6.2 innings in his first start of 2019, giving up three hits and no earned runs.
All in all, the Spartans' starters combined for a 0.85 ERA in the series, easily their best weekend of the season as a unit. And this all came with the continued absence of breakout star Mike Mokma (shoulder soreness). He grades out as the team's best starting pitcher, owning a 2.37 ERA over 30.1 innings pitched.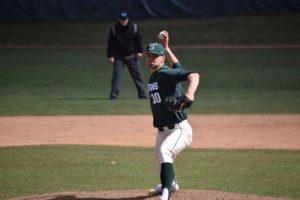 The bullpen was also strong in the series, continuing a stretch of dominance that spans the past 11 games. In that stretch, the relievers have combined for a 2.57 ERA, a minuscule .199 batting average against, and 40 strikeouts in 42 innings pitched. They didn't allow a run against Indiana State, contributing to the all-around success of the staff.
This stretch has also allowed the Spartans to establish their go-to relievers in certain situations, as Sleeman and Evan Flohr occupy the middle innings behind setup man Colten Panaranto and flame-throwing closer Indigo Diaz.
Wrapping up the weekend, the entire staff limited the Sycamores to just a .122 batting average (11-of-90), while allowing only two runs (0.64 ERA) and striking out 21 batters.
It was one of the more dominant three-game stretches in recent memory for MSU, a squad that's struggled for a consistent facet to lean on all season long. After a weekend like this, the Spartans may have finally revealed their calling card.
On to the Irish
The Spartans will now look to carry their momentum into their next contest, a single game with Notre Dame in South Bend, Indiana. MSU has seen recent success against the Irish, having won 16 of the last 21 meetings.
Notre Dame was able to win the last matchup though, emerging victorious by a score of 8-7 last April in East Lansing. The Spartans found themselves down 8-0 entering the seventh inning, but pounded out seven runs to come one short of a miraculous comeback.
The Irish are 12-17 on the season after losing five of their last seven games. They are led by infielder Spencer Myers (.306 batting average), along with outfielders Eric Gilgenbach and Niko Kavadas (28 RBI each).
Southpaw Jarret Olson will head to the mound for the Spartans, making his fourth start of the season. He will be opposed by Notre Dame lefty Tommy Vail. Each player owns a 6.36 and 6.28 ERA, respectively.