After a career outing for Erla, Spartans win first McLane night game on suicide squeeze
Erla throws nine scoreless, Lacayo delivers game-winner in 1-0 victory
EAST LANSING, Mich – If you're a fan of the classic pitchers' duel and some old school small ball, you would've been on the edge of your seat for the first-ever night game at McLane Stadium. The two biggest takeaways from Friday's 1-0 victory against Indiana State were a showdown between starters Mason Erla and Triston Polley, and a walk-off suicide squeeze executed by Nic Lacayo.
"If you're a baseball pureist, this was a fun game to watch." MSU coach Jake Boss Jr. said following the game.
There was much anticipation ahead of the first home night game in the 135-year history of the Michigan State program, and the ensuing ballgame lived up to all expectations. In fact, it went down as one of the best home games Boss said he had participated in during his 11 seasons at the helm.
"This was a big one," Boss said when asked about how the victory stacked up against his other home memories. "I remember some wins against Michigan, a sweep of top-10 Indiana and a win over Oregon, but this was a big one. You only get to play the first night game in school history one time."
The historical game was headlined by a matchup of each team's number-one starter, with the Spartans sending the durable Erla, and the Sycamores (22-5) countering with Polley, who owned a 1.99 ERA headed into play.
BOX SCORE: MSU 1, Indiana State 0
Each pitcher set the tone early, recording quick outs and commanding the strike zone in a briskly played game. The scoreless mastery continued into the late innings, with both starters emptying the tank and working into the ninth inning.
Erla would complete nine crisp innings, only allowing two hits while striking out six in the best outing of the young redshirt sophomore's career. He broke his career-high mark in innings pitched, besting his seven innings against Rutgers in 2018 with nine on the night. Erla also only allowed two hits, a new season high in what's been an up and down 2019 campaign.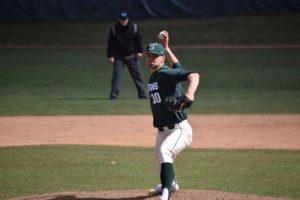 "I've been struggling on the mound," Erla said. "It felt really good to have a performance like this. I took it one pitch at a time and I trusted my defense, which performed really well. It was a special night, I'll always remember this moment."
In the other dugout, the lefty Polley failed to complete a full nine frames, but was still masterful, only allowing five hits in 8.2 innings. He was chased in the bottom of the ninth after surrendering a walk to Bailey Peterson, but further damage was averted, as Tyler Ward entered and got Bechina and Chmielewski to both ground out. The game was sent to extras knotted at zero.
Newly-minted closer Indigo Diaz was called upon to start off the 10th, he walked the leadoff man but rebounded well, sitting down the next two hitters to propel his team back into the dugout with momentum.
That's when the small ball started. Royce Ando kicked off the inning by singling to right field, then advancing all the way to third base after a Scott Combs' sacrifice bunt was fielded by the third baseman and thrown into center. The catcher Lacayo then stepped in, squared around on a 1-1 pitch and bunted it down the first-base line to score a charging Ando.
The low-scoring, pitching-oriented fans rejoiced. Well… actually everyone rejoiced, as the Spartans took home their first night game at McLane in dramatic fashion.
"We don't hit .350 as a team, we have to be able to execute the game and do the little things correctly," Boss said. "We got a break on Combs' bunt, that set up the squeeze. We were in a pretty good spot with Nic (Lacayo) being one of our best bunters."
Diaz picked up the win for the Spartans (6-21, 0-5 Big Ten), improving his record to 1-3 on the season. Of the seven hits recorded for MSU, Lacayo pounded out three of them, a new career high for the senior backstop. Ando pitched in as well, going 2-for-4 and scoring the game-winning run.
"I give our guys a lot of credit," Boss said, "That's a really good team in the other dugout, and they're going to be good for the next two games. We got a couple breaks and made plays when we needed to. I'm really proud of our guys for hanging in there."
These two teams will continue their three-game weekend series tomorrow afternoon, as the Spartans send Mitchell Tyranski to the mound in pursuit of a second straight victory over the Missouri Valley Conference powerhouse Sycamores.