Meet the Directors | Programming & Training Teams
Impact 89FM (WDBM) is more than just music; we're more than a radio station. Our new "Meet the Directors" series invites you to get to know the people behind all the content we produce for our readers, listeners and loyal fans.
This week, we meet Ella Kovacs, Simone Fenzi and Justin Ralph. Ella, a senior art history major, is WDBM's programming director; Simone, a junior journalism and economics double major, is WDBM's assistant programming director; and Justin, a junior economics and human biology major, is WDBM's training director.
Together, these three directors manage and train the Impact's DJ staff from having no experience to being professional radio personalities. They also work with our music directors to choose and add the music that is played on 88.9FM, add and program the music into the daily logs, and troubleshoot any issues that come up with the station's radio system. Not only are these responsible for adding all your favorite, new songs, but they're also to thank for making sure our radio station is live for people to listen to each day.
Why did you decide to join the Impact?
Simone:  I originally joined the street team because I thought there open mic nights were awesome. I wanted to kind of have an inside scoop on that, and then over Facebook someone posted there was an opening on the air staff team, so that led to me get involved with the Fix, then VT, and down the line until I eventually got this position.
Justin: I always knew I wanted to be involved in music in some sort of facet here at MSU. It actually started as I was in the marching band for four whole days. I realized that was not for me, so I left that, and I didn't have anywhere else to go, but the Impact seemed like the next most logical step to me. It wasn't necessarily playing music, but it was still a good music environment and it seems like a good group of people, so I went for it, and now I'm here.
Ella: I have always been interested in broadcasting. It was my passion and hobby throughout high school, so I wanted to find somewhere I could do that here. I found it like immediately and started DJ-ing, and I really like it but I also really a slacker about it until I realized I'm volunteering for this. No one is making me come here, like why am I dragging my feet so much, just choose to do a good job. So then I started coming to all my shifts and covering other people's shifts, so I was around a lot, and then I really started to appreciate the space more. That's the semester I got station MVP, and then I was programming director the next semester, so things went like "pssht." *motions upward as if a plane were taking off*
What's your favorite part about working here?
S: The people. Definitely interacting with so many people that have different ideas and seeing where they want to go, and making that happen musically. At the same time, the music. Since I'm so involved with the music, it just fills me so many new hits and artists that I'd may have never heard before. So it's kind of both people and music, a balance between them.
J: I would say from the training department perspective, just watching the volunteers grow from naive little children to professional DJs, just growing in their professional public speaking skills, their attitudes, and their knowledge about the music. I think our music director Jesse is a good example of that. He's actually the first person I trained from start to finish, and now he's made it up the ranks and he's my co-worker. It's really cool to see people mature. I feel like a proud dad is the best way to put it.
J: Papa Justin is in the house.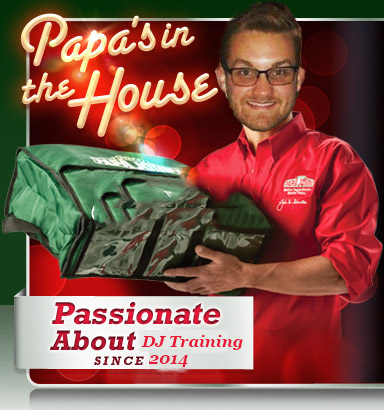 E: Being surrounded by like-minded, passionate, young people who are fun to hang out with and who understand just things that we're going through as our age group. We all love it here, which is a big thing we have in common, which is cool, and we also have a really big influence on younger students and volunteers that come through. We create the space for them as we move through it, so I really like being able to have that influence.
What's the best concert you've ever attended and why?
S: It's actually my first concert. It was the best because it was my first, not because of anything else. Naive Simone went with his very naive girlfriend to Nicki Minaj and Britney Spears together, and that was something. Also Simon didn't know who Nicki Minaj was, so I was like who is this…? But it made for an interesting time.
J: I would have to say mine was the last day of Riot Fest 2016. It was a good show all weekend obviously, I got to see Denzel Curry. It was basically like my playlist in real life all weekend, it was amazing. But the last set of the night was Death Grips did a set immediately followed by The Original Misfits, so it was just like two hours of intense pitting. This one guy in a wheelchair went crowd surfing— I almost got decked by a wheelchair. So, it was one of those moments you fear for your life, but like an invigorating, affirming way.
E: Ok. So, my best concert… I was thinking about this the other day and I feel like I have a couple different memories glommed together, but I believe this memory is true. It was a Tigers Jaw concert— it was either them or From Indian Lakes, but I think for sure it was Tigers Jaw. I didn't have a ride to Grand Rapids, and I wa panicking because I just really wanted to go. One of my friends, who lives in Grand Rapids, ended up literally offering to pick me up and take me there, and bring me all the way back. I was like if you do this, I'll buy your ticket. So we went together and my other friends who— yes, it's coming back to me, this is a really memory! My other friend who I met at a From Indian Lakes concert, he's like really special to me because we really bond over this music, he was going to be there and I knew that, so we met up with him. So it was being with people who I felt close with and who really enjoyed it on the same level as me, it was beyond words. It was the best night.
If you could turn any activity into an Olympic Sport, what event would you most likely win Gold in?
S: Sleeping.
J: What is this rated?
All: laughing uncontrollably
Moderator: Probably PG. Yeah, PG.
J: PG OK… let me edit my answers. Hmm…Olympic sport? What am I good at? That's a good question, this is tough. Huh, what do I do good?
J: I would say beer pong, but you have to be at a certain BAC. It can't be sober beer pong, it has to be a little tipsy beer pong. I'm only good when I'm not drunk, but like I'm on the line. Ya know, loose beer pong.
E: Let me think about this one… *mutters to herself*
E: I think it would be… there's so many things I could win the gold for.
J: You're so talented
E: I think making everyone in a room or restaurant look at me when I laugh. I know I would do that, and I don't know anyone else who could.
If your life was a movie, what would the title of it be?
J: "Not this again."
S: Oh man, I think I have to think about it just a little bit more.
J: I've thought about this a lot.
S: You already had the answer, you were ready for it.
S: Going off of that I would with like, "Here We Go Again."
J: Oh… that's a bit more of an optimistic spin on that I guess.
E: "The Life and Times of Ella," of course. No last name.
E: I feel like I just wouldn't want it to be called anything else. Because the life and times are so all encompassing, so interesting, like what do I do each day. That's what I would want it to be all about. And no last name because people just know.