Artist Profile | Luxury Flux
In Sept. 2016, The Avenue Café hosted a fundraiser show called "Grrrl just wanna have fun," featuring several bands consisting of at least one female member. Luxury Flux was in the lineup, and Lindsey, the front woman, was on vocals and guitar. That was my first time seeing their show. She reminded me of Nico from The Velvet Underground or a delicate version of Debbie from Blondie.
Although every now and then, it's hard for people to get over how a female band member is able to be phenomenal on guitar, that is one of Luxury Flux's expressions.  Their joyful melody, agile lilting refrain, and unexpected tempo changes trap their audience into a dimly lo-fi undercurrent. Lindsey's voice is deep and husky, harmoniously melding with drummer Stephen's solid backup vocal.  A feeling of emptiness through their music easily draws the attention of the entire venue.
Four months later, I am sitting in Sam's house on his couch. He handed me a paper-warped CD. It is an early recording CD of Luxury Flux, when their name was still Samara. As the fuzzy phone recording songs filled my ears, along with my inspired mind, I had the desire to go deeper with this band.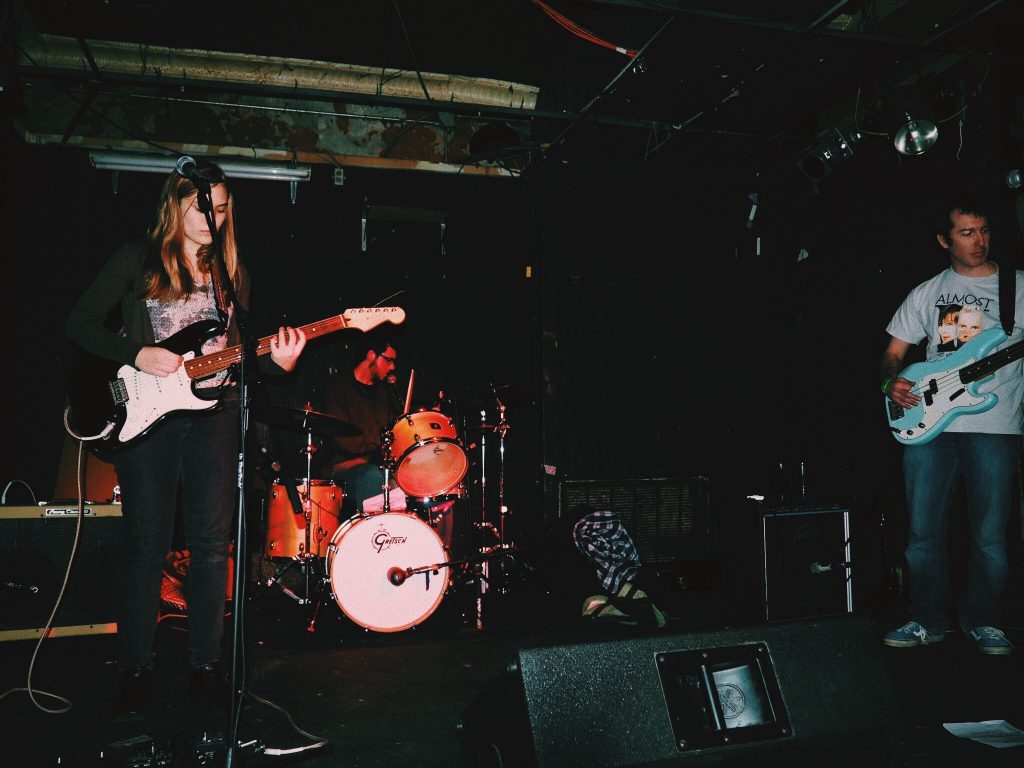 Lindsey (L): Vocal &guitarist.
Sam(SM): Bassist.
Stephen(S): Drummer, backup vocal.
How long have you known each other? How did you meet?
Stephen (S): I have known Lindsey for more than 5 years.
Lindsey (L): We found each other on Last.Fm, the music website. All of our iTunes IDs showed up, we saw we were all from Michigan and we had a high compatibility on the site. Me and Stephen didn't know anybody and Sam already had a history of playing in bands actively in Lansing. We added him in the Lansing music scene Facebook group. I actually posted my LastFm scribblers for meeting new people and Sam liked it a lot!
Sam (SM): It was good music.
Stephen (S): Last.Fm technically brought us together. It was a big deal 5 years ago.
What genre of music do you consider your work to be? Who are your major influences?
SM: The wire, it is a big one, Television. We are definitely alternative rock
S:  The cure. Art punk and garage punk, or art pop.
L: The talking heads.
Who write your songs? Could you briefly describe the music-making process?
L: We all write together. We all write our own parts and mash them together. Sometimes one person has one idea then everybody lays down the idea. We all collaborate on lyrics.
I have never listened to the lyrics clearly before at your live shows,  it's a very lo-fi vibe, until the album version.
S: Now it's Hi-Fi.
You started the band name as Sumarah, how come it changed to Luxury Flux?
SM: Originally it was Non-Vibrant Colors
S: That was the first show we ever played, then we changed it to Samara then Sumarah, then Luxury Flux. People can finally say it right because we've never decided how to pronounce sumarah. We had mixed feelings about it.
L: We just needed a name that is catchier and people can pronounce. It's been 8 months we have been playing as Luxury Flux. They just sound good together. I got the word luxury from a song, Sunny Afternoon by the Kinks.
You guys are most likely playing around Michigan, have you planned any big tours?
L&S: We want to and we'd like to in the future.
Which show was the most impressive one and why?
SM: The Misfits one! We opened for The Misfits.  It probably the biggest venue we ever played for.
S: It was a crazy one. We were in a band just 5 months, and we jumped into that. We all dressed up. It was Oct 17th, 2015.
L: It was a big stage, like 20 feet tall.
S: Also a DIY show we played at Marlette, it was in the middle of nowhere, like an Amish country. We played at 2 a.m. in someone's backyard. It was weird. They loved us!
Which venue would you say was the best?
All: The Old Miami in Detroit, and we all like Mac's bar and the Avenue Cafe in Lansing.
SM: The best show is coming up in May at Mac's bar we are opening up for the Local H. It's probably the best show once it happens.
Talk about the past album recording experience, anything fun you wanna share?
L: It was a lot of fun!  We recorded with Jim Diamond at Templemill Studio. He is really good at his job. He made our first album recording experience seamless, considering we recorded it in two days. We recorded right before Christmas 2016. It was a Christmas miracle.
S: Nine tracks in two days, productively. That's our Christmas present.
Why self-titled? Seems like most of influential bands choose to dohave done that for their earlier career decisions.
L: I guess we are on the fastest track to success.
When is it coming out?
L: Early spring, sometime in April. We've made the an art for the cover photo.
What has been your biggest challenge as a band? Have you been able to overcome that challenge?
SM: Lindsey quitting the heroin and made the album…I am kidding; it could be a good story, though.
S: Don't do drugs, kids.
L: We have some little fights when we write songs.
S: But it's critical, creative, constructive fight. We are pushing each other to play better or play something cool.
SM: We all push each other pretty hard. We generally know what we need to do, we just want to make the songs as good as it possibly be. We are like dysfunctional family.
S: Sometimes we physically push each other on stage.
L: Not yet happening. We stay positive, a band-ly family.
SM: Firstly, when we started we are three guitar players basically, me and Stephen were kinda stuck figuring how to play bass and drums. In this point now, we are decent at them.
S: Not to mention I barely played the drums before I join this band.
Who determined the roles?
L: It was the second day of a band we used this lineup, we were down a basement, practicing one day. Sam played a red bass that he had, he looked at me then was like "Now, we are a band." while everybody was behind their instruments. Just came together naturally.
S (Air-drum playing): I was like this.
What's the ultimate direction for your band?
SM: We are going to the top.
L: We wanna just keep getting better. We care about it so much.
S: More realistically we want to support ourselves by music.
How do you fit in the Lansing music scene? Who are some your musical friends?
All: Scary women, Tidal, Odds Fish, GTG records crowd… every Lansing band is very supportive.
Did you sign with any record label?
L: Not yet, we want to eventually.
What's the difference between the music scene now and when you firstly started?
SM: At this point, vinyl records kinda came back. It's almost better. Since we've been in a band, it's the same.
L: It's hard to make money off records, you'll have to go out and play the shows.
Is there anyone you'd like to acknowledge for offering financial or emotional supports?
L: My parents, Christina and William. They have made it to all of our shows.
SM & S: Jimmy, Joel, Tom Taylor, The bands Scary Women and Tidal. Cait Ash, she is the assistant audio engineer who also did hand claps and whistle in our album.
If you ever have had a chance to pick a band to join in, which one it would be?
SM: Wire.
L: Pere Ubu
S: I am kinda in the same boat.
All: We want to play with Pink Floyd. And we want to open for David Bowie's spirit in another dimension.
Anything you wanna add?
S: Buy our albums, see our shows!
SM: We are gonna do that (music) forever. We are lifers.
Check out Luxury Flux next time their in Lansing for their CD release show on April 21 at The Avenue Cafe. Scary Women, Dirt Room and Myron James are opening for the band. Also check out our bonus interview with Jim Diamond, producer of White Stripes' first two albums.
Save
Save
Save
Save