S U R V I V E Interview at El Club
All images credited to Natashia Evelyn. 
Interview conducted by Sana Hakim. 
Sana: The first question I have is probably one you've gotten a lot. Why do you put spaces in S U R V I V E?
Kyle: There's no reason for it. It was just a makeshift way to do letter spacing on Myspace back in the day. It was just a hacky graphic design tactic that works on the Internet. And it stuck. But it's not significant.
Adam: It's aesthetically pleasing!
Kyle: It's actually helped with searching for the band name because it's such a common word.
Adam: SEO optimization I believe is the correct term for that.
Kyle: Well optimization is the last, that's the O.
Adam: Oh, yeah. 
Everyone laughs.
Kyle: Search engine optimization. Anyhow. For your, FYI.
Adam: Yeah, no that's my thing. That was on purpose.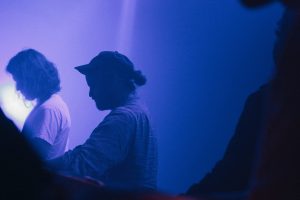 Sana: I'll definitely keep the Stranger Things questions to a minimum because I'm sure you get tons of them. Are you sick of it yet?
Kyle: Sighs. Can that be my answer? Yeah, I mean no. It's good. It's helped out a lot so, but it's a topic that comes up frequently.
Sana: Are you guys working on the second season?
Kyle: Yeah. Not currently but that's a thing.
Sana: So, correct me if I'm wrong but the deal with this was that they give you the episodes and then you make the music for it? Like is that how it works?
Kyle: About half the time. I mean we did a lot of upfront work. We would just give them a library of different moods that they could place into scenes and then you know the final version ended up being actual score where we worked to a scene, so yes.
Sana: If someone told you they were gonna take all the music that you have right now and you got to make the movie for it, could you imagine what you would make the plot?
Kyle: I'm gonna say no to that, I don't know. There's so many movies that could be made.
[Off mic]: Something really dramatic. Lots of drama.
Sana: Yeah that would make sense. I think whatever it is, it would be really cool. Do you ever feel like just doing a 180 and making something super upbeat and uplifting?
Kyle: So, we do make various types of music and some of them are uplifting but they wouldn't necessarily come out as S U R V I V E.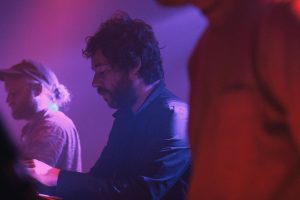 Sana: Yeah, I mean that's a person to person thing. I'm excited to see you guys perform and I'm excited to see what people in the audience do while you perform because I am genuinely curious to see what people do with their bodies. Like do you see people just get rowdy in the crowd like dancing around ever?
Kyle: That's actually a nice, refreshing thing to see someone getting pretty wild.
[Off mic]: Typically it's kind of a head bob thing or similar to what you'd see at a dubstep show.
Laughter.
Kyle: I don't know about that dubstep show, man. The one in Buffalo was pretty wild…
Sana: That'll be me.
We get pizza.
Sana: What has been your favorite show to date?
Adam: Last night in Pittsburgh was really amazing because there was this light installation by a guy named Ian…
Kyle: Ian Brill did a really nice LED kind of corridor that he was controlling the whole show and it was really impressive looking, so that's up there, at least top 3 for me. The LA show was very fun as well.
Sana: What's been your favorite meal on tour so far?
Everyone makes thinking noises.
Sana: Is it this pizza?
Kyle: No. I mean, this is great pizza but.
Adam: Probably Roberta's in Brooklyn.
Kyle: You went to Roberta's?
Adam: We lied to Kyle and told him that we weren't going to Roberta's and then we went without him. And it was really cool.
Kyle: I had fun too, not being there.
Adam: We were thinking about him from time to time throughout the meal and laughing.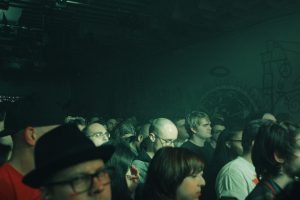 Sana: Can you tell me about the album that you just released? How long had you been working on that before it came out?
Adam: We were done for a really long time.
Kyle: That album was finished in January of 2015. So it's been sitting there for over a year. But it was… we worked on it for at least 3-4 years. Some of those songs even predate the release of… eh, I don't know. A while. Let's just leave it at that.
Sana: What should we look forward to? What's next? This show?
Kyle: This show. We're playing Day for Night Festival in Houston in December. I don't know if you've seen the lineup, but it's pretty insane. Aphex Twins is coming to America for the first time in over 10 years? 7? I saw a decade thrown around so I'm just gonna go with that. So that's pretty cool. Bjork's got an interaction instillation that she's doing. I mean, the bill is stacked. Even the small names would be headlining other shows so I'm looking forward to that. It's a really nice festival. I think [. . .] it was a good move for them to get such a impressive lineup because now they're internationally known as a festival after their second year, which I don't think is very common as far as festivals go. It usually takes like five years or something.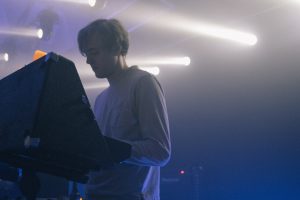 Sana: Have you guys played a lot of festivals previously?
Kyle: A handful.
Sana: What's the difference between playing a festival and playing a show like this?
Kyle: Soundcheck.
Sana: Ok, well, Travis, do you have any questions?
Travis: I should have prepared something! I was kind of wondering, you guys are preparing for this festival in Houston. Are you planning on doing anything new or different during the show to accommodate it? Or is it gonna be kind of the bread and butter?
Kyle: That would be nice but I don't know if we'll have time to really work on anything new. We'd spoken with Ian last night about potentially doing some more shows with him for festivals and whatnot using his light set up which, you know, it's gonna take some time to work out. But I'm optimistic that that'll happen. That'll be fun.
Sana: What is your music scene like in Texas. In, where exactly? Is it Austin? Or around Austin.
Adam: There's a lot of bands. It's very crowded. In Austin, everybody has a band. A lot of times, more than one band. So, imagine one of those buffets you go to where they've got Chinese food, pizza, and tacos and all that kind of stuff. That's what Austin's like.
Kyle: A big genre buffet. There's a whole lot of scenes and pockets of all this different stuff going on. It's nice, lately a lot of it's been crossing over. There will be warehouse parties with live electronic, or techno parties where you'll see the punk scene is there now, and stuff like that which is fucking cool [. . .] I think it's evolving in a good way.
Portions of this interview were edited for clarity and length.