Hip Hop is dominated by the four C's: collaboration, competition, and the two C's on Chanel bags.

Nowhere in the rap game is this more evident than on guest verses, an important tradition in hip hop. If you're on the come-up, hopping on someone else's track can be great promotion. If you're trying to flaunt the budget your label gave you, shelling out for a Gucci verse will probably impress someone. While there aren't necessarily rules to this game, I think a good guest verse has to accomplish a couple things:
Adding something to the song. Whether expanding on lyrical themes or completely changing the narrative, the presence must be felt.

Challenging your cohorts. Rap is a competitive game, and any truly great verse brings about rare moments of self-doubt in another rapper's head.
A guest verse can make or break a song, an artist, hell, even a career. Now, with all that unnecessary rambling in mind, here are 5 of my favorite guest verses.
Disclaimer:  Ultimately, I think numbers are arbitrary, as is my opinion frankly, but these are simply some of MY favorite guest verses. I'm sure Cappadonna did in fact kill it on Scarface's dope Japanese release only b-side, but I really don't care.
Haters gonna hate.
#5: Jay Rock on Kendrick Lamar's "Money Trees"
Kendrick Lamar's good kid, m.A.A.d city is already considered a hip hop landmark, but on a tracklist featuring names like Drake, Dr. Dre, and Jay-Z, it's the little-known spitter Jay Rock that steals the show. Despite being mistaken for that one dude on Trailer Park Boys and being relegated to cheerleader status on TDE, Jay Rock has been steadily killing it for years. Although he had a couple of solid releases under his belt, he was relatively unknown when K. Dot asked him to hop on his slow and steady track "Money Trees." After Kendrick croons a couple simple rhymes and half-sung hooks, Jay Rock tears in with one of my favorite opening lines: " 'Magine Rock up in them projects where them n!&&@s pick ya pockets/Santa Clause don't miss them stockins, liquor spilling, pistols poppin'. " Something in the air changes when Jay Rock's verse roars in, smashing bar after bar over your head until you're left dazed, confused, and begging for more.  
#4:  Nicki Minaj on Kanye West's "Monster"
My Beautiful Dark Twisted Fantasy enamored me from the moment it dropped. The entire album was on an almost constant rotation in my high school-era iPod. (remember those?) But this song, this song was different. I refused to even address Minaj's presence. You mean to tell me that someone absolutely murdered Rick Ross, Jay-Z, and Kanye West in one fell 32-bar swoop, and it was the "You a Stupid H*e" chick? My feeble adolescent mind just couldn't accept it. I now know that it was fear that clouded my usually crystal clear judgment. I was afraid to let the queen conquer. I was afraid of those weird voices she used, but mostly I was afraid that Nicki could beat me up in a fight.
It's tough to put a finger on what exactly triggered my change of heart. Over time I started shaving, stopped listening to Kid CuDi, and just accepted Minaj's lyrical murder. Now you're likely to catch me on campus walking to class, headphones in, flailing my arms to and fro mouthing the words "Pink wig, thick a**, give them whiplash/I think big, get cash, make them blink fast."
#3: Eminem on Jay-Z's "Renegade"
On a loaded tracklist, the lone guest spot on Jay-Z's The Blueprint was given to Detroit's very own Eminem, and naive Jay-Z couldn't have known what he was getting himself into. After Hov spits an underappreciated verse targeting music critics, Eminem rips into the leagues of religious and political leaders that had been attac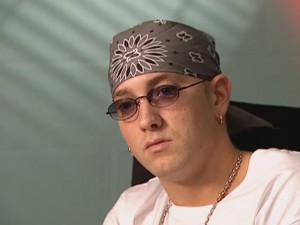 king his music and image for years. I know it's weird to think about now, but back when Eminem had a brighter haircut and a darker disposition he wasn't a hit with old white people.

Em's "Renegade" verse has been an odd point of controversy for Jay-Z. Many rappers (usually known as a compassionate group) have accused Hov of being shown up by Eminem on his own track. It's hard to argue with them, but that basically happened to everyone with a microphone between 2000 and 2007. Eminem apparently didn't receive guest track invites for years after "Renegade," although looking at a picture of Em a la 2001 might explain that.
#2: AZ on Nas' "Life's a B*tch"
Nas bangs away at the existential angst of his rough upbringing throughout Illmatic, but the best moment on hip-hop's greatest album doesn't belong to him. Nas is outshined by little known, Brooklyn based rapper AZ on the standout track "Life's a B*tch." Ranting over a smooth R&B sample, AZ spits a beautifully bleak verse on broken dreams, immorality, and meaningless violence with a gut punch of rapid fire, multi-syllabic rhymes.
However, poor AZ never got the love he deserved and apparently needed. Despite a string of solid releases and great features, AZ never achieved commercial success. Maybe killing Nas at his lyrical peak is it's own reward, but that doesn't pay the bills.
#1: RA the Rugged Man on Jedi Mind Tricks' "Uncommon Valor: A Vietnam Story"
RA the Rugged Man is one of hip-hop's strangest characters due to the simple fact that any and all stories about him could be true. But three things are certain about RA: his lyrical prowess is damn-near unmatched, his verse on the great Jedi Mind Tricks cut "Uncommon Valor: A Vietnam Story" is the greatest guest spot of all time, and those sideburns could cut granite.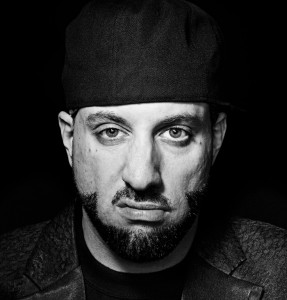 Over a haunting instrumental, Vinnie Pauz and RA the Rugged Man bring the Vietnam War back into the public consciousness by rapping about the American soldier's experience. Pauz's verse is great, tackling the fear of fighting in a foreign land, but then RA utters those two words: "True Story."
Then the Rugged Man ups the ante by recounting the brutal true story of his father's deployment in Vietnam. RA paints a disturbingly vividpicture of the conflict through a verse that is both technically impressive and emotionally powerful. Dense rhymes on the physical and mental effects of the war on his father are fired at machine gun pace for two heavy minutes. I won't spoil the tragic story here, but listening to this song still sends chills down my spine and gets me pissed off about Vietnam all over again.