Michigan State adds transfer G Stephanie Visscher
EAST LANSING, Mich— Michigan State coach Suzy Merchant has added another transfer guard to next year's roster.
On Tuesday afternoon, Merchant announced that former Stephen F. Austin guard Stephanie Visscher transferred to MSU. She is a graduate transfer and led the Lumberjacks in scoring with 14.2 points per game this past season to go along with 6.4 rebounds. She has also started all 121 games for Stephen F. Austin over the past four seasons.
Signed on the dotted line ✍️ Spartan Nation, help us welcome Stephanie Visscher 🇸🇪#GoGreen | @stephanievi4

🗞️ https://t.co/XFTiWktMjY pic.twitter.com/mIaHwUpv6q

— Michigan State Women's Basketball (@MSU_WBasketball) April 26, 2022
A native of Sweden, Visscher started in all 33 games for Stephen F. Austin and received first-team All-WAC honors in 2021-22. She also averaged nearly 33 minutes a game and shot 38.4% from three as well as 48% from the floor.
During the 2020-21 season, she started in all 27 games for the Lumberjacks and averaged 12.6 points a game, also a team high. A solid rebounding guard, she has averaged at least four boards a game in each of the past three seasons.
As a sophomore in 2019-20, Visscher was tied for the team lead in scoring with 13.3 points a game. She also started in all 29 games for Stephen F. Austin and averaged 6.4 rebounds a game.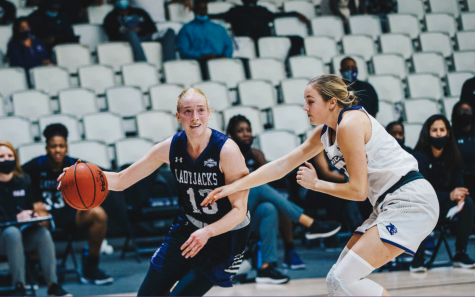 She was third on the team in scoring as a freshman, averaging 7.8 points a game in 29.2 minutes of action.
Visscher is a three-time All-WAC defensive honoree and earned first-team All-Conference honors in each of the past two seasons. She has been among the nations leaders in steals in each of the past two seasons as well.
Visscher provides the Spartans with an experienced backcourt option with the departure of former first-team All-Big Ten selection and 2022 first-round draft pick Nia Clouden. She is the second transfer that Merchant has gotten via the portal, following former Clemson starting guard Gabby Elliot. Those two will join incoming freshman Theryn Hallock and Abbey Kimball.
The Spartans are also set to return starting point guard Deedee Hagemann and Moira Joiner.