Spartans come from behind in close win against Eagles
EAST LANSING – After breaking a five-game losing streak with a win against Oakland, Michigan State continued its newfound momentum with a victory over Eastern Michigan on Wednesday.
Despite an early one-run lead in the first inning, the Spartans found themselves behind for most of the game. They were unable to fully close a three-run gap twice in the third and fourth innings.
One of the biggest problems the Spartans faced during the game was fielding errors. One fielding error by sophomore shortstop Mitch Jebb in the second inning and another by junior left fielder Casey Mayes in the fifth helped EMU to maintain its lead throughout play.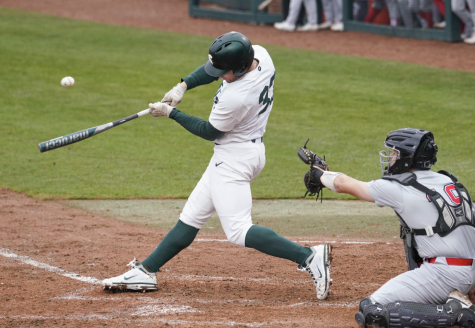 MSU coach Jake Boss said, "Defensively, we weren't very good tonight. A couple errors and three unearned runs … it's nothing that's, thankfully, effort related."
One thing that helped MSU keep a close game was its effort on the mound. Freshman pitcher Aidan Arbaugh, in just his second start of the season, stood for five innings against EMU. He gave up six runs on six hits with three of those being unearned.
Juniors Wyatt Rush and Andrew Carson were both brought in to relieve Arbaugh. Rush, who was attributed the win, gave up only two hits and one walk in 2.2 innings. Carson, who pitched 0.1 innings in the top of the eighth, gave up no hits or walks. Neither relief pitcher gave up any runs to the Eagles during their time on the mound.
Good relief pitching wasn't the only thing to help the Spartans overtake EMU in the end. A continuous effort at the plate helped put MSU back in the lead.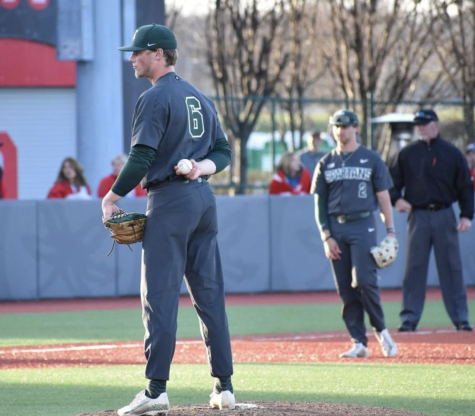 "We got down early, but there's 27 outs in the game and so you just try to take advantage of your opportunities," Boss said. "We were able to get two here, two there … that's just it."
Jebb led the Spartans at the plate, having gone 3-for-5 with two runs of his own. On his third hit, a single up the left side, Jebb drove in junior right fielder Zaid Walker all the way from second.
Sophomore center fielder Jack Frank and redshirt junior first baseman Peter Ahn each had two RBIs as well, with Frank scoring a run himself in the bottom of the fourth.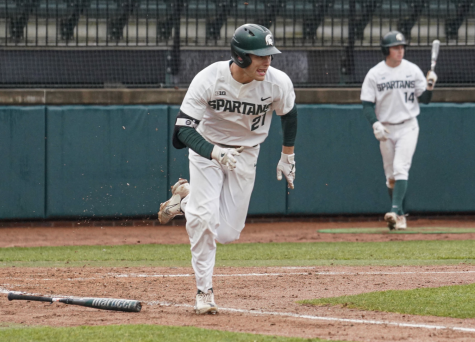 After Jebb's RBI single in the sixth, the Spartans stood ahead by one run, 7-6. After Carson closed out the eighth on a strikeout, it was up to graduate senior Kyle Bischoff to close out the final inning. Bischoff's 14th appearance saw him come in with a 0.51 ERA, having closed out the Spartans' victory over Oakland the night before.
"[Bischoff's] got that closer type of mentality which you need to have, and so we'll gladly turn the ball over to him in the ninth," Boss said.
Bischoff did not disappoint as he retired the Eagles in order for a final 1-2-3 inning. This gave him his second consecutive save and his eighth for the season.
The Spartans will face a quick turnaround for their next game.
"With the two midweek games, we only get one opportunity to practice," Boss said.
They face the Northwestern Wildcats in Evanston on Friday for their first away series since they faced Ohio State. First pitch is slated for 4:30 p.m. at Rocky and Berenice Miller Park.