Julius Marble enters transfer portal
EAST LANSING — Michigan State men's basketball took a big hit when Julius Marble II reportedly entered the transfer portal on Tuesday.
Stephen Brooks of 247 Sports was the first of multiple sources to confirm that Marble had submitted paperwork to enter the NCAA transfer portal.
With the recent announcement of starting center Marcus Bingham Jr., Marble was the likely full-time starting option down low for the Spartans next season.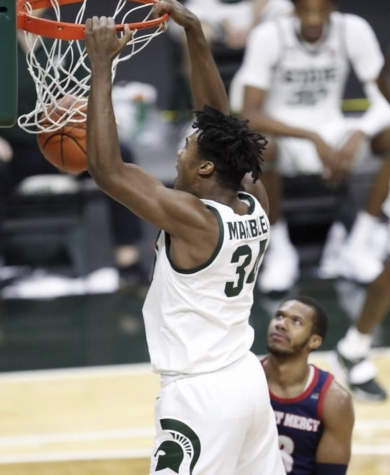 The Dallas, Texas native began to find his rhythm this past season, having averaged 6.4 points per game and 3.3 rebounds in an average of 14.4 minutes played. He made four starts, including three-straight towards the end of the regular season.
Marble proved himself to be a valuable piece off the bench in the 2021 season after averaging less than 10 minutes a game in each of his first two seasons with the program.
Perhaps his best offensive game of this past season was his 18-point clinic in the team's heartbreaking two-point home loss to Northwestern. Other standout games for the junior included a 13-point, seven-rebound performance in the season opener against Kansas and a 14-point, eight-rebound showing in the Spartans' road loss to Penn State.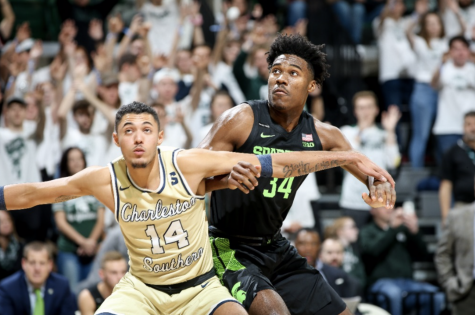 Marble's presence in the post will certainly be missed by a team that now has a lot of questions to answer regarding its frontcourt for next season. He is the third Spartan to enter the transfer portal this offseason.
Marble finished his career at MSU with a total of 90 games played, 13 starts, 218 boards, 14 assists, 25 blocks, 16 steals and 385 points. He averaged 4.3 points, 0.2 assists and 2.4 rebounds throughout his three seasons as a Spartan.