Series with Michigan ends in defeated sweep for Spartans, comeback falls short
East Lansing – There was no better day for baseball than Easter Sunday in East Lansing. The Michigan State Spartans (13-18, 2-6 B1G) were set to face Michigan (19-15, 5-3 B1G) in Game 3 of their in-state rival series at Mclane Stadium. 
MSU had been outscored 26-8 against the Wolverines in the first two games and were looking to salvage the series with a win, while Michigan was seeking its second-straight series sweep. 
Through three full innings of scoreless baseball, both teams had threatened but did not score. From there, the scoring began to roll in.
The Wolverines just needed two innings of offense to pick up the win as they scored three runs in both the fourth and fifth innings to sweep the Spartans on the road with a 6-3 victory. 
With the loss, MSU fell to 13-19 on the year and 2-7 in conference play. 
Right-handed pitcher Conner Tomasic made the start for the Spartans with a 2-0 record coming into the contest. Tomasic threw three scoreless innings before Michigan began to put together some good swings off the transfer junior.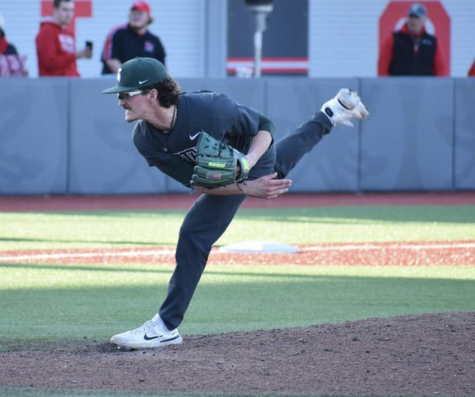 Tomasic finished the day going seven innings, giving up six runs on five hits while striking out three. He was handed his first loss as a Spartan and fell to 2-1 on the year with a 4.93 ERA.
Graduate senior Kyle Bischoff was the only other Spartan pitcher to make an appearance. He threw both the eighth and ninth innings near perfectly, not giving up a run and striking out two Michigan batters. Bischoff leads the team with a 0.54 ERA through 16 and two-thirds innings pitched this year. 
A costly error from Spartan third baseman Dillon Kark scored a run with two outs for the Wolverines, breaking the scoreless tie. 
Michigan took advantage of the error as junior Tito Flores launched a two-run home run into the pine trees in deep left field to extend its lead to three. 
The Wolverines were not done as former Spartan graduate Joe Stewart sent a line drive over the fence in dead center for a three-run homer that gave them a 6-0 lead in the fifth inning.
MSU was able to scrape together its first run of the ballgame in the sixth with a SAC-fly to center field from freshman catcher Bryan Broecker.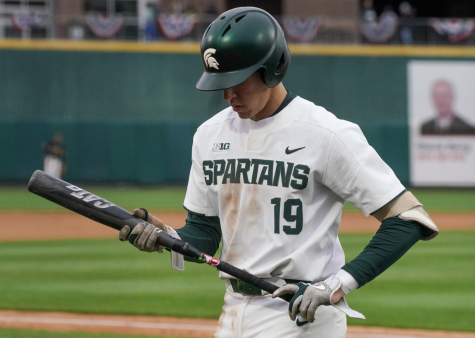 Late heroics from the Spartan middle infielders cut the lead in half and brought MSU within three runs.
With a man on second, sophomore shortstop Mitch Jebb delivered a line drive double into the right center gap to score a run. Jebb leads the team with 29 RBIs. 
The very next batter, sophomore second baseman Trent Farquhar, skied a ball out to deep right field that looked to be a deep flyout. However, the glare of the sun was too much for Michigan right fielder Clark Elliot as the ball fell to the ground five feet from his glove and Jebb was able to score from second.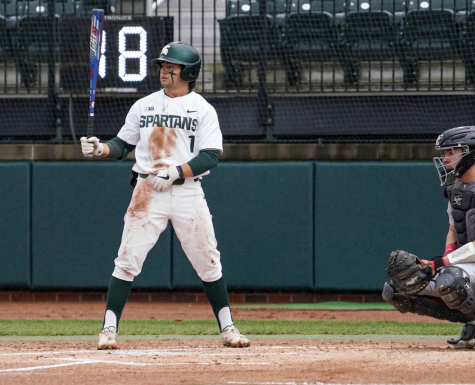 Wolverines starting pitcher Chase Allen was sensational as he picked up the win, putting together five scoreless innings, allowing just two hits and notching four strikeouts. 
For MSU, its comeback fell short as it was unable to score in the final two innings of play but did put two runners on base in the bottom of the ninth. 
The Spartans look to snap their five-game losing streak at home against Oakland University Tuesday afternoon. First pitch is set for 6:35 p.m. ET. The Golden Grizzlies are 17-17 on the year but have lost four of their last six games.