Spartan track and field prospers at Louisville Invitational, Beadlescomb leaves mark at Bryan Clay Invitational
EAST LANSING—After running the fourth-fastest indoor mile time in NCAA history earlier this season, Michigan State graduate student Morgan Beadlescomb made more history at the Bryan Clay Invitational on April 14. 
Racing just before 9:00 p.m. in Azusa, Calif., Beadlescomb finished second in the men's 5000m, running a personal-best time of 13:17.16, good for the ninth-fastest time in NCAA history. It also broke his previous school record of 13:21.40. 
In a race that featured nine of the top 20 10,000m runners from this season, Beadlescomb finished behind only Washington's Brian Fay, who ran a time of 13:16.52. Fay and Beadlescomb were two of six runners to break the previous meet record of 13:24.77.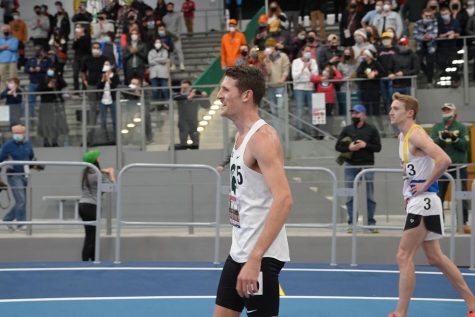 Beadlescomb now has the second-fastest 5000m time in the nation this season, which he'll look to hold onto after running the fastest indoor mile time earlier this year. 
While Beadlescomb was in California, the rest of the team was traveling to the Louisville Invitational. The Spartans claimed multiple individual event titles and set a handful of PRs there, led by senior Jenna Magness in her season outdoor debut. 
Magness ran the 1500m for the first time since May of last year, and she finished first with a personal-best time of 4:16.89. Sophomore Makenna Veen and graduate student Casey Mossholder finished third and fourth in the event, respectively, with Veen setting a PR of 4:26.13.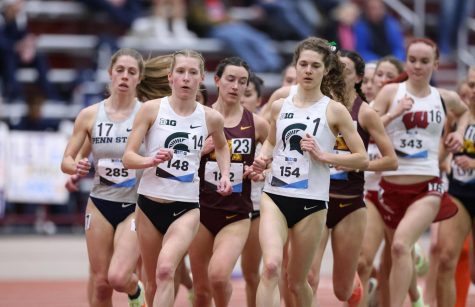 Senior John Petruno followed up his school-record 1500m performance at the Raleigh Relays with another record-breaking race, this time in the men's 3000m. Petruno ran a PR time of 8:07.90 to finish first, which smashed the previous stadium record of 8:20.04. 
Redshirt junior Abdi Ahmed also broke the previous record, running a time of 8:18.36 in the event to finish third. Sophomore Alexander Penski, junior Jeremy Kloss and sophomore Brendan Favazza finished in that order behind Ahmed to help the Spartans take five of the top six spots in the race. 
Junior Jaiden Paris was the third Spartan to take home an individual title, doing so in the 100m hurdles. Paris ran a personal-best time of 13.45 seconds, while Kaia Scheffler took second and fellow sophomore Avery Budz took fourth. 
On the field, senior Sophia Franklin took third place in the women's high jump, finishing with a best height of 4.21m on her first attempt. Trevor Stephenson finished fourth in the men's high jump with a top attempt of 4.97m, while fellow senior Michael Davenport finished behind him in sixth.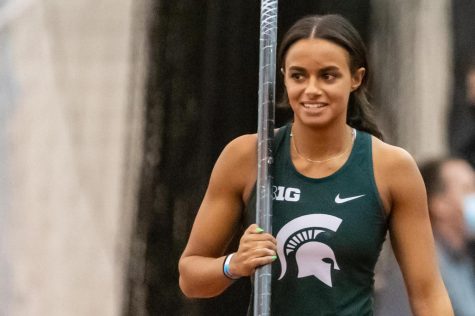 Freshmen sprinting duo Noah Sage and Terrence Muex finished back-to-back in the men's 400m. Sage took fourth with a time of 48.02, while Muex was right behind him in 48.97 seconds. 
Recent transfer sophomore Lexy Alston made her MSU debut in the meet, finishing seventh in the women's 400m with a time of 59.07. She also ran in the women's 4x400m relay team that took fifth place. 
Other notable results include junior Katie Osika taking second in the women's 800m with a PR of 2:07.15 and sophomore Joshua DeVries taking third with a top throw of 58.56m in the men's hammer throw. 
The Spartans' next meet following the successful weekend will be in Bloomington, Indiana, at the Indiana Invitational on April 22 and 23.