Cole Krygier to return for fifth season
EAST LANSING, Mich— MSU senior defenseman Cole Krygier is returning for his fifth season.
The announcement comes a day after the Spartans parted ways with former head coach Danton Cole. Krygier, a 6-foot-2 defenseman from Novi, had 11 points (and four goals) this past season for MSU. He also appeared in 35 games for the Spartans and helped to anchor a sometimes inconsistent blue line despite taking 21 penalties, the third-highest mark on the team.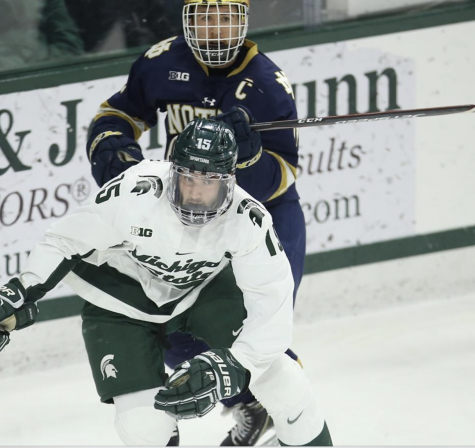 As a junior during the 2020-21 season, Krygier appeared in 25 games for the Spartans and collected three points. He had six points (three goals) and a sophomore in all 36 games and five points in 26 games as a freshman.
Krygier was a seventh-round selection in the 2018 NHL Draft by the Florida Panthers, but decided to attend MSU with his twin brother Christian.
The return of Krygier is massive for a Spartan team that has seen defenseman Aiden Gallacher and Christian Krygier enter the portal; captain Dennis Cesana is set to graduate. MSU has added former Clarkson defender Michael Underwood via the transfer portal, and both players will contend with returners Nash Nienhius, Powell Connor, Cal Dybicz, and David Gucciardi for playing time.
MSU is also set to welcome in two freshman defenseman for 2022 in Matt Basgall and Daniel Russell.