Cole dismissed as MSU head hockey coach
EAST LANSING, Mich— Michigan State hockey coach Danton Cole has relieved of his duties, effective immediately.
"Over the last month, I spent time evaluating where we currently stand as a hockey program. It's become clear to me that it's in the best interests of the program to make a change in leadership and begin a new era of Spartan hockey," MSU athletic director Alan Haller said. "Danton Cole is a Spartan alum who put his heart into this job and we appreciate his efforts and dedication."
The announcement comes as the Spartans added Cornell transfer goaltender Nate McDonald earlier on Tuesday. Cole spent five years at MSU, compiling a 58-101-12 record. He also didn't have a winning season as head coach of the Spartans and finished in last in the Big Ten in four out of five seasons. The other season, 2019-20, MSU finished in sixth place out of seven teams.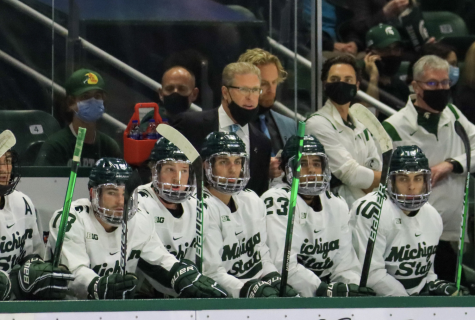 Cole also lost at least 12 conference games in four out of his five seasons at MSU, including 31 losses to only 10 wins the past two years.
This past season, Cole led the Spartans to a 12-23-1 record. MSU started off the 2021-22 season at 11-8, but lost 15 out of its last 16 games after a slew of injuries to forwards Mitchell Lewandowski and Griffin Loughran. The Spartans lost all six meetings to Michigan, including a two-game sweep in the first round of the Big Ten tournament.
He never won a game in the Big Ten tournament, getting swept five years in a row.
"I believe a fresh start is what the program needs most. We have a proud championship history and a passionate alumni group," Haller said. "With a renovated Munn Ice Arena opening this fall and a renewed commitment to the success of the program, great things are on the horizon for Spartan hockey."
Six Spartans have entered the portal since the conclusion of the 2021-22 season, including goaltender Drew DeRidder, forwards Kristoff Papp and Josh Nodler and defenseman Christian Krygier and Aiden Gallacher. MSU has also added four transfers in forwards Justin Jalen (Brown) and Zach Dubinsky (RPI), as well as McDonald and defenseman Michael Underwood (Clarkson).