Papp enters transfer portal, sixth Spartan to enter since end of season
EAST LANSING, Mich— The mass exodus continues for MSU hockey.
On Monday afternoon, sophomore forward Kristoff Papp became the sixth Spartan to enter the transfer portal since the conclusion of the 2021-22 season. The Spartans have seen forward Josh Nodler and defenseman Aidan Gallacher both enter the portal since Wednesday, March 30.
Papp proved himself as a capable secondary offensive weapon for MSU this past season, notching 12 points and two goals in 34 games played. Last season, he had four points in 25 games, all coming on assists.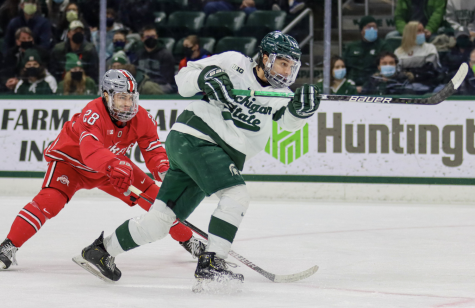 The 5-foot-11, 182-pound Papp was set for a larger role going into next season with the departure of forwards Mitchell Lewandowski and Mitchell Mattson (due to graduation), and forwards Adam Goodsir and Nodler, who both are in the portal.
Along with Papp, Goodsir, Gallacher and Nodler, defensemen Christian Krygier is also currently in the portal. The only Spartan who has entered the portal and subsequently found a new home is goaltender Drew DeRidder; he transferred to North Dakota on March 26.
With Papp in the portal, MSU currently has forwards Jesse Tucker, Jeremy Davidson, A.J. Hodges, Kyle Haskins, Nicolas Muller, Erik Middendorf, Tanner Kelly, Griffin Loughran, Chris Berger and Jagger Joshua on the roster. The Spartans also recently added Brown transfer Justin Jallen and Rensselaer Polytechnic Institute transfer Zach Dubinsky; both players are forwards.