MSU dominates at 2022 Spartan Invite
EAST LANSING, Mich. — In the first Spartan Invitational hosted by the Michigan State track and field program since 2019, MSU athletes captured 11 total titles and set numerous personal records. 
The meet took place on Friday and Saturday, with a number of facilities hosting events. On the first day, Jenison Fieldhouse held the jumping events, while the throwing events took place at Munn Field. On Saturday, Ralph Young Field was home to all the running events and shot put, while Munn and Jenison were again used for throwing and jumping events, respectively. 
"It felt great to host this weekend," said Director of Track and Field Lisa Breznau. "It really takes a lot of people to put this meet on, not just our staff coming together and helping one another out, but everyone from facilities, sports medicine and sports information, all the components.
"We're really grateful for that, as it's all for our student-athletes, for them to be able to compete at home, especially for some of our younger athletes to get a chance to compete this year."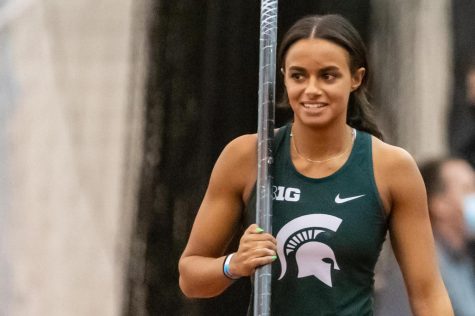 It was a chilly two days in East Lansing, so those competing inside Jenison likely enjoyed the warmer conditions. MSU senior Sophia Franklin had a solid showing indoors during the women's pole vault invite on Friday, finishing as the top collegiate in the event with a best vault of 4.32m. 
Franklin came close to setting the school record at 4.42m but failed to clear the height in three attempts. Only Grand Valley State alum Kristen Leland, the NCAA Division II record holder who competed unattached, finished ahead of her. Fellow senior Calli Ostapowicz placed fifth overall with an outdoor PR of 4.02m. 
On the men's side, senior Michael Davenport finished in second behind Hillsdale's Ben Raffin with an outdoor PR of 4.76m, which he cleared on his third attempt. 
Freshman Valadian Pallett had a busy first day at Munn Field, placing fifth in women's javelin with a 34.45m throw and 14th in women's hammer throw. Freshman Dylan Terryberry, who was competing unattached, also had a strong showing in men's javelin, finishing in second after throwing for 54.49m on his final attempt. 
Sophomore Joshua Devries threw for 59.35m on his second attempt in the men's hammer throw, good for fourth overall. MSU throws coach Zachery Ball was especially happy with Devries' efforts. 
"I'm really proud of Josh coming out and throwing a personal best today," Ball said. "He competed extremely well and that's a great start to his campaign. It allowed him to gain a ton of confidence moving forward."
The second day of action began with a few unseeded races and the men's and women's 5000m at Ralph Young Field, as well as the remaining jumping and throwing events at Jenison and Munn, respectively. 
Following the conclusion of the women's 5000m, the MSU seniors were honored on the infield at Ralph Young. The athletes walked to the center of the field with their families and friends, received a bouquet of flowers and took pictures with Breznau. 
It was a special moment for all involved, especially graduate student Morgan Beadlescomb, who raced for the first and last time at Ralph Young Field during his six-year career at MSU.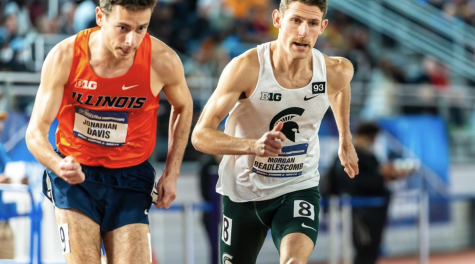 Beadlescomb finished first overall in the men's 1500m, running a time of 3:42.81 in the first heat. Joining him in the heat were eight other Spartans, including senior school record holder John Petruno, who finished right behind Beadlescomb with a time of 3:43.18.
In his first collegiate 1500m race, sophomore Andrew Nolan finished third overall, running 3:48.09. 
Sophomore Eleanor Kendell had an impressive showing in the women's 1500m, finishing second in a competitive race with a time of 4:35.94. It was Kendell's first race of the track and field season, as she was out during the indoor season with an injury. 
Juniors Jalen Smith (1:53.59) and Jeremy Kloss (1:54.76) took first and second in the men's 800m, respectively, while sophomore Hunter Zartman broke the two-minute barrier for the first time outdoors in his collegiate career, running a time of 1:57.14. 
Smith, who went into the second lap trailing Grand Valley State's Patrick Lyell, used an impressive kick and the energy from the home crowd to capture the event title. 
"It's exhilarating," Smith said about competing in East Lansing for the first time in three years. "You get a different energy, especially because this is your home meet. There's more motivation to do well for the people who showed up in the cold to watch you run two laps."
Other highlights from the second day include both the men's and women's 4x100m teams taking first place. Senior Shakira Dancy's finish as the anchor helped the women's team rebound from a difficult hand off between the second and third legs. 
The men's and women's 200m races also proved successful for the Spartans, as freshman Noah Sage took first place by a significant margin, running 21.81 in his first collegiate outdoor race in that event. 
Junior Jaiden Paris (24.87) narrowly beat out sophomore Amani Nuels (25.30) in the first heat of the women's 200m, after a battle for first place from the gun. 
Following the meet, Breznau was equally as happy with her team's mental attitude as she was with their performances on the track. 
"We've had a lot of season-bests and all-time PRs, but more than anything I think they're just learning to let go and compete and not care too much about the outcome in the moment," Breznau said. "Both programs are in a fantastic place and ready to keep rolling."
Next, MSU will send a handful of athletes to the University of Arizona to compete at the Jim Click Shootout on April 7-8, while graduate student Quiara Wheeler will travel to Miami to participate in the Hurricane Alumni Invitational on April 8-9.