Christie enters 2022 NBA Draft, but doesn't hire agent, Davis Smith enters transfer portal
EAST LANSING, Mich—MSU freshman forward Max Christie has entered the 2022 NBA draft, but did not hire an agent. This will allow for him to retain his college eligibility, if he so chooses.
Christie is the third player for MSU to declare for the NBA Draft, following senior forwards Gabe Brown and Marcus Bingham Jr. Brown declared for the draft on March 26; Bingham followed on Thursday evening.
A five-time Big Ten Freshman of the Week selection, the five-star Christie averaged 9.3 points a game and 3.5 rebounds on 38% shooting from the floor and 31% from 3-point range. He scored in double figures 13 times, including a 21-point performance against Nebraska on Jan. 5 and led the Spartans in average minutes per game at 30.8.
He will have until June 3 to decide whether to withdraw from the draft or not; Christie started in all 35 games for MSU at shooting guard. He was also named to the 2021-22 All-Big Ten Freshman Team and proved himself as one of the Spartans' perimeter defenders time and time again.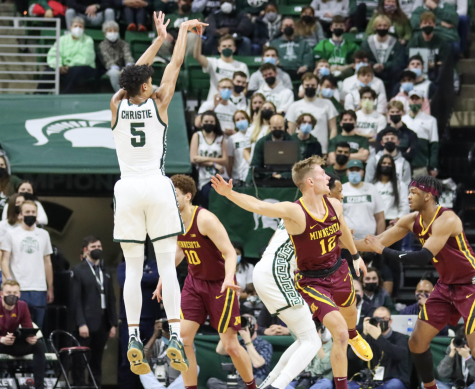 In other news, sophomore guard Davis Smith announced that he has entered the transfer portal. He is the second Spartan to enter the transfer portal in the past week, following freshman forward Peter Nwoke. Smith appeared in 12 games for the Spartans in 2021-22 and seven during the 2020-21 season. He averaged 1.5 minus a game this past season and was awarded a scholarship before the beginning of the season.
Over those 19 games, Smith compiled two assists, one rebound and one block.