Focusing on the future of the Michigan State offensive line
Marin Klein, Women's Basketball Beat Reporter
March 29, 2022
EAST LANSING — With spring practices underway at Michigan State, the Spartan football team is looking for more depth in its lineups, and Mel Tucker, along with his entire coaching staff, is looking for players to put their best foot forward. 
With limited players, especially on the offensive line, playing this spring season, coaches are looking toward the younger players to step up more than they may have in the past. To attain the depth that the coaches are after, more players need to start getting on the field at practice, so when the time arises, they can have confidence on the field. 
"The positive to it is that the young guys are getting more reps," said offensive line coach Chris Kapilovic. "They're getting better because of it."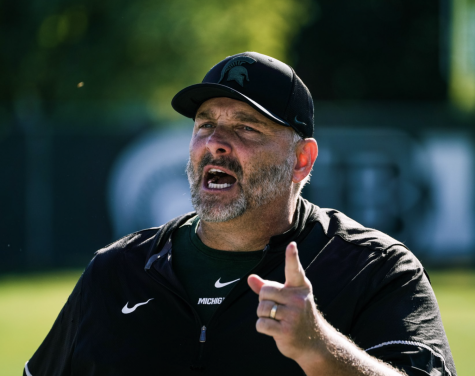 The Spartans lost eight offensive linemen this season, including four starters. They have gained four new players, including Ashton Lepo, Gavin Brocious, Braden Miller and Kristian Phillips. Six of the 11 returning players are redshirt freshmen and sophomores who have not yet seen time on the line for MSU.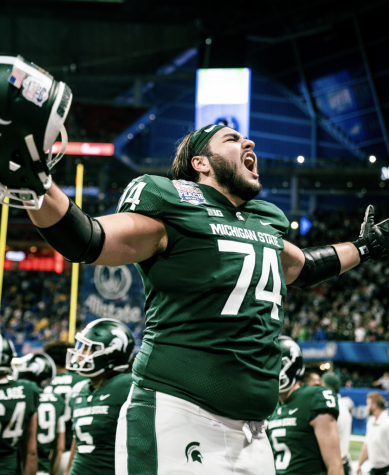 Senior center Nick Samac and redshirt junior Spencer Brown, along with three other returning upperclassmen, have had to set an example for the young players being thrown into action. Thus far, everyone has been putting in good effort and creating depth for the Spartans.
"We got some young guys stepping up and I think everyone's really improving," Samac said.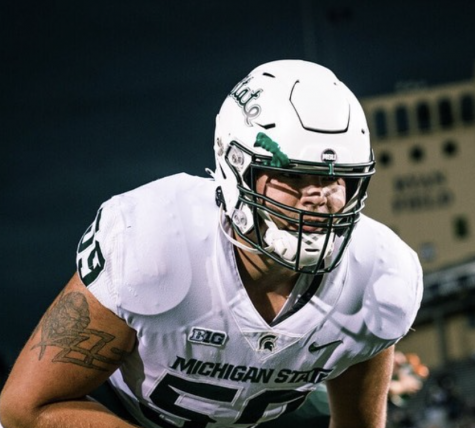 With limited players during the spring season, everyone on the team is working twice as hard to prove themselves and maybe secure a spot on the field in the fall. Nothing is guaranteed for any player. Brown, who got his first start at right tackle in the Chick-fil Peach Bowl, is making sure that he puts his best foot forward for himself and to set an example for the younger players.
"It's been work, it's definitely not easy. Just because there's only five guys out there doesn't mean we don't go out there and put in the work," Brown said.
With only five players having real game experience, as well as incoming Washington State transfer Brian Greene, there is a whole new offensive linemen generation to prepare for upcoming seasons under Coach Tucker. Coaches and players alike seem to be pleased with the work that has been put in so far and hope for it to continue to grow as time progresses. However, there is still a lot of work to be done for not just the offensive line, but the whole team, which will be coming into its season in the fall with the momentum it gained from 2021.