Spartan track and field competes in first meet of outdoor season
The Michigan State track and field team had a successful weekend at the Raleigh Relays hosted by North Carolina State. The meet was highlighted by a record-breaking performance, accompanied by multiple podium finishes and PRs.
Despite a slight starting delay on the first day of action, the Spartans came out with a bang. Sophia Franklin continued her dominance by taking first place in the women's pole vault invitational with a 4.15m vault, good for her seventh first-place finish of the season. 
Fellow senior Calli Ostapowicz also made the podium with a 3.70m vault, good for an eighth-place tie. 
Senior John Petruno continued the day's action by running a time of 3:40.43 in the 15th heat of the men's 1500m, which placed him third overall. Petruno's time was a career PR of over a second, and it broke the school record for the event, which dated back to 1987.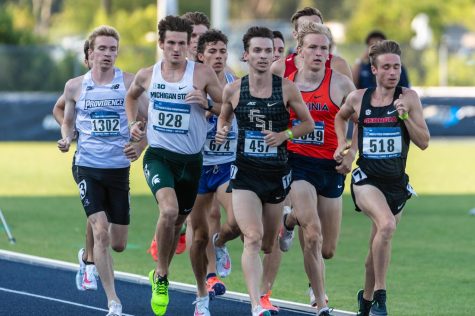 Junior Jeremy Kloss also ran a personal-best time in the event, as he finished with a 3:55.32 time in the first heat. 
In her first career 10,000m race, junior Makayla Perez ran a time of 33:36.86. She used a late kick to capture a seventh-place podium finish in what was the last event of the night.
Leading off the second day, sophomore Tylor Leedom made the podium with a 2.00m finish in the men's high jump, good for seventh place overall.
Sticking with the field events, senior Tyler Stephenson used his momentum from the indoor season to take first place in the men's pole vault invitational with a 5.41 finish, which set his outdoor PR. 
Sophomore Ryan Talbot also matched his own outdoor PR in the event, taking seventh with a 4.91m vault. Junior Heath Baldwin reached the podium in the men's open pole vault with a 4.57m finish, taking fourth place. 
On the track, junior Jaiden Paris ran a time of 13.59 seconds in the women's 100m hurdles, good enough for her PR and a seventh-place finish. Freshman Noah Sage also took seventh, but in the men's 400m. He ran a time of 46.55 in his outdoor debut.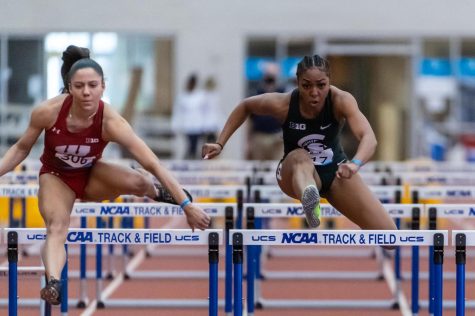 Freshman Kate Sewart-Barnett posted the final podium finish of the day for the Spartans, coming in fifth in the women's 3000m steeplechase with a time of 10:11.39.
Junior Olivia Lopez kicked off the third day by capturing a 5.87m PR in the women's long jump on her first of eight attempts. This placed her third overall in the event. 
After registering personal-best times in the women's 1500m the day before, juniors Lauren Freeland, Katie Osika and Melanie Helder all captured outdoor PRs in the women's 800m as well, running times of 2:08.80, 2:09.26 and 2:09.81, respectively. 
Senior Shakira Dancy ran a time of 24.16 seconds in the women's 200m to take sixth place, while freshman Terrence Muex placed second in the men's 200m with a 21.11 second time in his outdoor debut.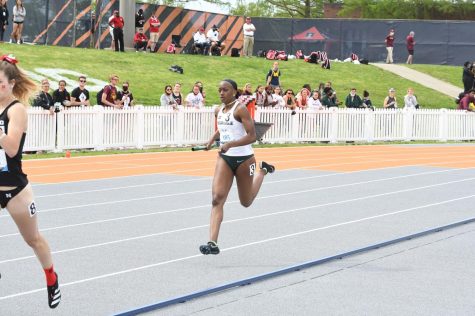 The third day concluded with grad transfer Quiara Wheeler capturing a 59.61m toss in the women's hammer throw, giving her a seventh-place podium finish. 
Director of Track and Field Lisa Breznau was happy with her team's performance, despite having limited outdoor practice time prior to the meet. 
"I think it was a solid start," Breznau said. "We haven't been outside for very long, and some of the time that we have been outside hasn't been incredibly ideal; it's March in Michigan.
"This particular meet is three long days where you're outside the entire time and, even though it is nicer conditions, I think the athletes did a good job of making the most of it and supporting one another." 
Michigan State will continue its outdoor season by hosting the Spartan Invitational on April 1 and 2, the first outdoor meet in East Lansing since 2019.