MSU baseball drops second game of doubleheader against Illinois
East Lansing– After a disappointing defeat to start its Friday, Michigan State baseball looked to bounce back in the second game of the doubleheader against Illinois. The woes that killed the Spartans in the series opener carried over into this game as Illinois defeated MSU, 9-2.
Sophomore left-hander Nick Powers got the start for MSU and looked to build off of his stellar performance last week against Houston Baptist. Powers had a solid performance, making it into the sixth inning where he was pulled after throwing 94 pitches. He allowed seven hits, but only three runs which all came in the second inning.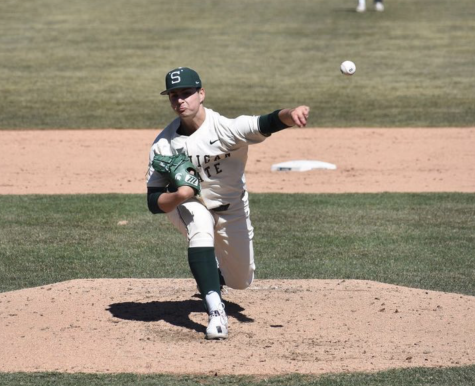 In the second, Illinois quickly put pressure on Powers by loading the bases with no one out. Infielder Cal Hezja would bring home the runner from third on a sacrifice fly to make it 1-0. Powers was able to get the next Illinois batter out on a ground ball, but with two outs in the inning, Branden Comia came through for Illinois with a two-out single that would score two runs to make it 3-0.
The Spartan offense struggled again in the second game of the day, as Illinois starter Riley Gowens held the MSU offense to just one run and two hits in his six innings of work. Even after Gowens' day was over, the Illinois bullpen killed any chance of an MSU comeback. Right-hander Tommy Green came in to get Illinois out of a jam in the seventh and would retire all eight batters he faced as he closed out the final three innings of the Illinois victory.
The Spartans were finally able to get a run across in the sixth when outfielder Jack Frank grounded into a fielder's choice that scored the runner from third and made it a 3-1 game. It appeared that MSU had some life and could complete a comeback, but a disastrous seventh inning put the game away.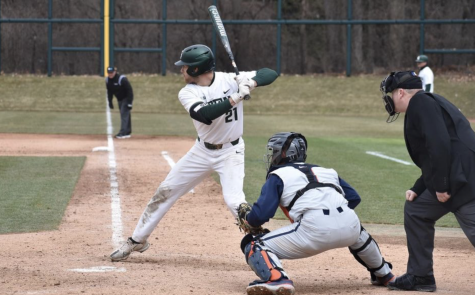 Junior right-hander Andrew Carson finished the sixth inning for Powers and came back out in the seventh, but he couldn't command his pitches as the first five Illinois batters reached base. Two runners had scored to make it a 5-1 game, and coach Jake Boss went to right-hander Kyle Dunning to escape the jam. Dunning forced a double play against his first batter, but a run was still able to score, and a wild pitch later in the inning allowed another runner to score, giving Illinois a commanding 7-1 lead.
Freshman catcher Christian Williams came through with an RBI double in the seventh to make it 7-2, but that would be answered by Illinois with runs in the eighth and ninth innings to reach the final score of 9-2. 
Dropping both games in the doubleheader was not the start to conference play that the Spartans were looking for after their strong performance in non-conference play. MSU will have an opportunity to avoid the sweep on Sunday in Champaign at 2 p.m. The final game of the series was supposed to be played on Saturday in East Lansing, but inclement weather forced the game to be moved to Illinois.