Spartans take third game in series against Houston Baptist, Williams seals it with a walk-off
EAST LANSING – After a hard-fought nine innings, Michigan State baseball snuck out a final run in the ninth to win its final game against Houston Baptist.
Coming off of a 1-0 win just a half an hour earlier, MSU looked to take home a second win on Sunday. However, things started off difficult in McLane Stadium, as Houston Baptist sought an early lead. 
Freshman pitcher Ryan Szczepaniak started on the mound for MSU, walking the Huskies' lead-off batter, senior center fielder Lane Botkin. A sacrifice bunt by senior first baseman Jake Miller and a stolen base put Botkin in scoring position. It was an easy RBI, as junior catcher Parker Edwards hit a double, putting the Huskies up, 1-0.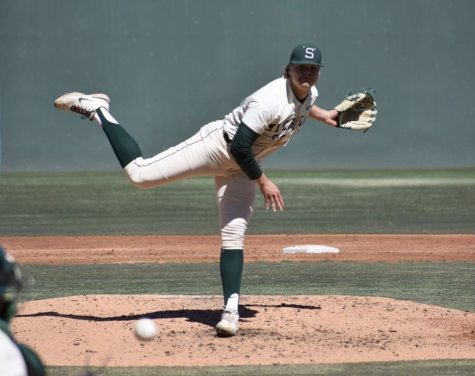 The Spartans batted around the order, sending all nine batters to the plate in the second. Junior right fielder Zaid Walker hit a single, proceeded to steal second and then was hit in by sophomore third baseman Dillon Kark, tying the game at one apiece. 
Peter Ahn, Spartan junior first baseman, hit a double, placing both him and Kark in scoring position. The Spartans expanded their lead as freshman catcher Christian Williams, in his fourth-ever start for MSU, hit a fly-out to center for a single and two runs from Kark and Ahn. The inning still wasn't over for the Spartans, as sophomore shortstop Mitch Jebb walked on first and sophomore second baseman Trent Farquhar singled, sending Williams home to bring the score up, 4-1.
The Huskies, however, were not going to take a four-run inning quietly. Junior shortstop Diego Davila walked onto first and was quickly hit home off a double by Edwards. A single by junior right fielder Logan Letney set up Edwards to score despite a 4-3 double play, taking out both Letney and junior third baseman Reed Chumley.
Unfortunately for the Huskies, their offense was only able to trim the Spartans' lead to 4-3 by the end of the inning.
MSU extended the lead once more in the bottom of the seventh inning, starting with a single from Jebb. What was intended to be a sacrifice bunt from Farquhar turned into a triple off of an error not only sending Jebb home but putting Farquhar in position to score as well. However, a quick strikeout by junior pitcher Tyler Zarella left Farquhar stranded at the end of the inning.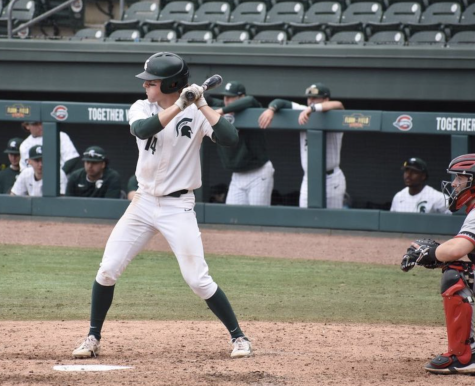 The top of the eighth saw HBU finally close the score gap. After Davila hit a line out to second, Edwards hit a single out to center field and Letney walked onto first. All it took after that was a second-base error to put junior left fielder Caleb Munton on base and bring Letney and Edwards home to tie the game at 5-5.
Conner Tomasic, junior pitcher for MSU, tried to close out the eighth but ended up walking sophomore second baseman Sebastian Trinidad. With a crucial 9-3-2 play by Walker, Ahn and Williams, the Spartans tagged Munton as he tried to cross home plate, preventing HBU from getting the lead and ending the inning.
Senior Pitcher Kyle Bischoff, who relieved Tomasic in the eighth, looked to close out the ninth without letting HBU score. He started off catching Botkin looking. A quick 6-3 groundout looked to keep the Huskies off of first base. However, Davila took ball 4 off of a full count and walked to first, hoping to give the Huskies some momentum as Edwards stepped to the plate. With a full count, Bischoff managed to strike out the HBU catcher, putting the Spartans in prime position to win.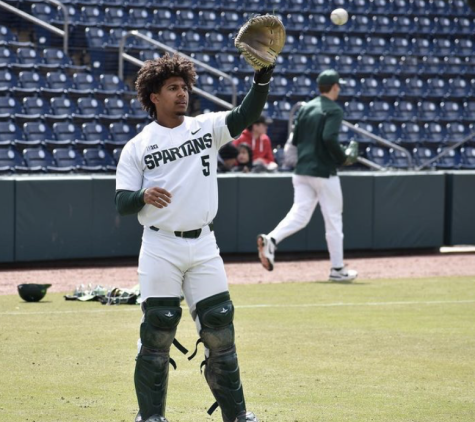 After Ahn was grounded out, Williams managed a single to center field, another single by Farquhar sent Williams to third and one final fielding error gave Williams a clear shot to home plate, winning the game 6-5 for the Spartans. 
"It felt great, Williams said. "We were talking on third and me and coach Sykes were like 'Hey we're gonna walk off this game.'"
The Spartans look to continue their undefeated streak at home on Wednesday against Purdue University Fort Wayne at 4:05 p.m.