How the 7-seed 2021-22 Spartans stack up with the 7-seed 2014-15 Spartans that made the Final Four
Lucky No. 7 might be garnering a different meaning for a certain ball club in East Lansing. The Michigan State Spartans found out Sunday that they're the No. 7 seed in the West Region of the 2022 Men's NCAA Tournament, taking on No. 10 Davidson in the Round of 64.
Seven years ago, on Selection Sunday, Tom Izzo and his guys sat down to watch the chips fall. An hour or so prior, they'd suffered an overtime loss to Bo Ryan and the Wisconsin Badgers in the championship game of the 2015 Big Ten Tournament. 
The Spartans held a 12-6 record in the conference, and in a tough college basketball landscape with star-studded teams like the undefeated Kentucky Wildcats and the Duke Blue Devils featuring two future NBA lottery picks, the Spartans were uncertain where they'd be seeded in the big dance.
Then, they saw their name pop up on the No. 7 line. Under-seeded? Perhaps. But any college basketball analyst or fan knows that Izzo is on the short list of coaches — with Michigan State on the short list of programs — that you simply cannot overlook in March.
The Spartans took care of business vs. Georgia, edged past Virginia and out-shot Buddy Hield and the Oklahoma Sooners in the Sweet 16. They then snatched a gritty, overtime win over the Louisville Cardinals to go dancing to the Final Four… as a No. 7 seed.
The magic ended there, as the Blue Devils disposed of the Spartans 81-61 before defeating Wisconsin in the National Championship game. Nevertheless, it was a hallmark rollercoaster ride and another banner to hang for the decorated, green and white program that is Michigan State men's basketball. 
And this season's team may have more similarities to the 2015 Final Four team of destiny than you may believe… beginning with the No. 7 seeding. The rosters stack up respectably, and I'm here to break it all down as the Spartans get ready for a clash with Davidson.
BRANDEN DAWSON // MARCUS BINGHAM JR.
Main similarities: Defensive anchor, post scoring, senior season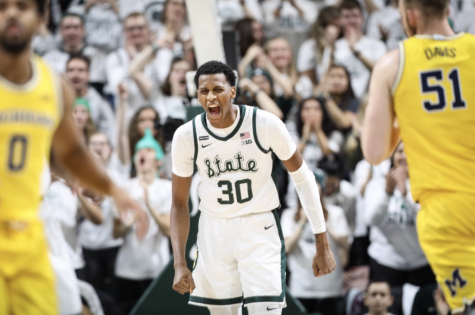 Dawson was the emotional leader of the 2015 team, and a very reasonable argument can be made that he was the best player. The senior from Gary, Indiana was one of three captains on the team, and while Bingham doesn't wear the C, both players are the defensive anchor for their squad. 
Some of Dawson's best work came in the tournament, when he stifled Louisville's Montrezl Harrell in the second half and overtime after Harrell said before the game that he didn't see Dawson "running with as much energy" as him. Dawson simply accepted the challenge and came out on top, something that this season's team will look for out of Bingham.
Dawson's offensive game was more versatile than Bingham's, given Dawson's ability to work the mid-range game and put the ball on the floor while still posting up a good amount. But in Bingham's senior season, in sporadic amounts, he has proven he can be a force to be reckoned with in the paint. In the Spartans' 69-63 upset win over Wisconsin in the Big Ten Tournament on Friday, Bingham scored 11-straight points for the Spartans in the second half to kickstart the game-winning run. 
Bingham has also been shooting the three nicely as of late, most notably going 3-for-4 from deep on Senior Day vs. Maryland to finish the regular season.
TRAVIS TRICE // TYSON WALKER
Main similarities: Sharpshooting point guard, closer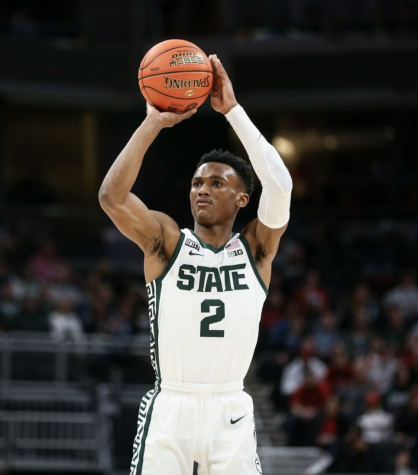 Oddly enough, both of these guys are listed at 6-feet tall and 175 pounds. But the biggest similarity I see between these guys is that while they excel in running the Spartans' offense, they both have an incredible 3-point shot. The frustrating thing for Spartan fans is that Walker is hesitant to shoot the three at times. He's shooting it at 49.3 percent this season, his first with the program after transferring from Northeastern. In Trice's four years, he shot as well as 43.4 percent from deep in his junior season.
Trice was often the guy the Spartans would give the ball to down the stretch in tight games in the 2014-15 season, and that's the role Walker has blossomed into as of late. Of course, there was the game-winning three in the final seconds to beat then-No. 4 Purdue at home. But in the Big Ten Tournament, Walker also scored nine points in the final three minutes in the win over the Badgers. 
If the Spartans want to make a run, they'll need Walker to have the same chops that Trice had. The only question at this time is Walker's health. He turned his ankle in the Spartans' final Big Ten Tournament game vs. Purdue and only played three minutes. Time will tell what his status is come Friday.
DENZEL VALENTINE // MALIK HALL
Main similarities: Doer of all things, captain as a junior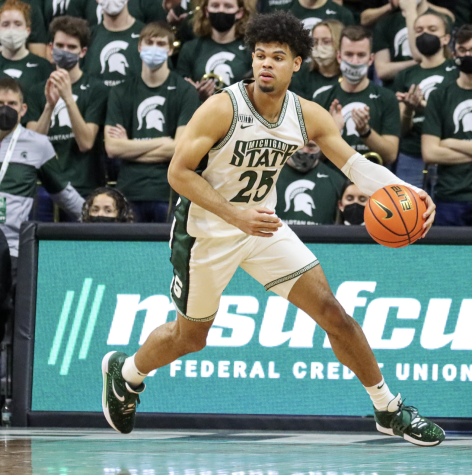 Valentine was one of the most versatile players that Izzo's ever coached. In 2016, he won AP Player of the Year after averaging 19.2 points, 7.5 rebounds and 7.8 assists per game as a senior. On the 2015 Final Four team, however, he played in a career-high 39 games, starting in all of them, and averaged 14.5 points, 6.3 rebounds and 4.3 assists per game.
The 2015 team featured Valentine as a safe, stable scoring option. That's what Hall has been, as Izzo himself has even referred to Hall as this team's "stabilizer." While his stats — 9.4 points, 4.6 rebounds, 1.1 assists — don't touch Valentine's, the versatility is there. Hall also comes off the bench, but finds himself on the floor at the end of games more times than not.
Hall has been criticized for his inconsistency, scoring as many as 24 points this season vs. Loyola Chicago and as few as ZERO vs. Illinois at home. He's also taken as many as 13 shots in a game and as few as three. 
But I've never seen it as a consistency issue; I see it simply as Hall will do whatever necessary, whenever. He's not great at anything except maybe his turnaround, mid-range jumper that fans love dearly, but he really has no weaknesses, either. 
If the Spartans need Hall to score 15 points in the first round to bail them out of a tight one, he could do that. Or, he could finish with three points, eight rebounds and play some critical defense. He does it all, just like Valentine did.
BRYN FORBES // GABE BROWN
Main similarity: Wing shooter you can't win without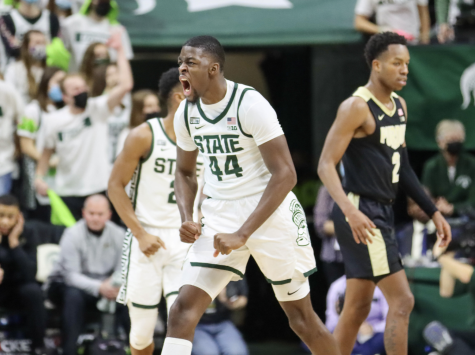 Spartan fans can get on Gabe Brown's case all they want, but the sentiment remains that when he shoots the ball well, it's extremely conducive to winning. The one exception was the 20-point loss to Rutgers on the road this season in which Brown made six threes. But you may also recall Brown shooting 4-for-6 from deep as a freshman in the Spartans' Sweet 16 victory over LSU in 2019 (a Final Four run as well).
That's exactly what Forbes was for the 2015 team, and really not a whole lot more. That's alright, though. Shooters shoot, and Forbes clipped at 42.7 percent from deep that season and averaged a steady 8.5 points per game. In the big dance, he shot 52.9 percent from deep before falling flat vs. Duke in the Final Four. 
Brown isn't a great ball-handler and can't create for himself the way Aaron Henry did for MSU last season, something that fans were hoping to see. But at his best, he's lethal from beyond the arc, and his 37.5 career 3-point percentage will come in handy should Sparty make a run. The cherry on top is that Brown himself stated that his confidence is "through the roof" heading into the tournament.
LOURAWLS "TUM TUM" NAIRN JR. // A.J. HOGGARD
Main similarities: High-tempo backup point guard, defensive grinder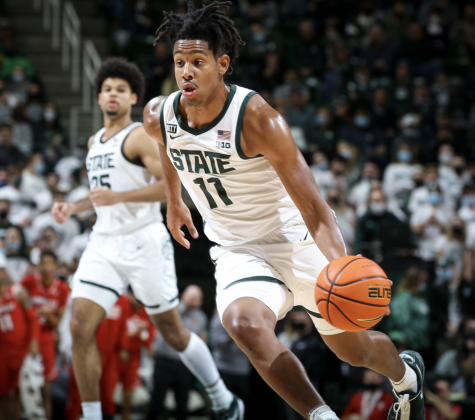 Nairn was limited offensively, averaging just 2.2 points and 2.4 assists per game in 19.4 minutes for the 2015 team. But his greatest strength was his speed with the ball, which is what kept him on the floor for nearly half of the game. Whenever he checked in to give Trice a rest, you knew the Spartans were going to get out and run. It was always about finding Nairn as quick as possible so he could get the ball down the floor in the blink of an eye, putting immense pressure on defenses.
Hoggard takes that formula and adds a scoring threat to it. He likes to push the tempo as well, and is also a better passer than Nairn given Hoggard's 4.9 assists per game. 
These two guys are also good defenders at the position. Nairn was often giving up size, standing only 5-foot-10, but he played with lots of heart and passion that allowed him to get a stop when his team needed it most. Hoggard, on the other hand, gave an outstanding defensive performance vs. Purdue, holding All-Big Ten First Team guard Jaden Ivey in check, especially late. Watch out for him to keep playing at a fast pace and channel Nairn's fire going into the tournament.
Oh, and they also both wear the jersey No. 11. That's fun.
MARVIN CLARK JR. // MAX CHRISTIE
Main similarity: Impact freshman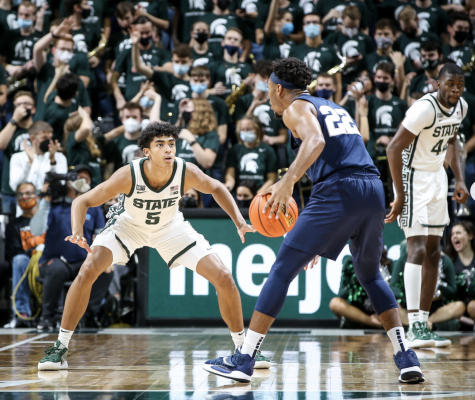 There aren't too many parallels to their game, but both players stepped on campus and became crucial to Spartan victories. Clark came on strong late in the 2014-15 campaign, with a season-high 14 points with six rebounds in the regular-season finale win over Indiana. Perhaps his most memorable performance was the Elite Eight game vs. Louisville in which Izzo put him on the floor to play tough defense in his postseason-high 18 minutes.
Izzo has been admittedly running the hell out of Christie, as the freshman leads the team in minutes. He's had a fair share of solid performances, winning multiple Big Ten Freshman of the Week honors this season, but he's also had some poor ones (i.e. two points at Illinois). 
One area where Christie has excelled consistently, however, is on the defensive end. He's often tasked with guarding the opponent's best or second-best guard. He was the primary defender on Wisconsin's Johnny Davis in the Big Ten Tournament, a game in which Davis, the Big Ten Player of the Year, shot 3-for-19 from the field.
While Christie does much more offensively than Clark did, the two freshmen are key cogs in their teams' wins.
MATT COSTELLO // JULIUS MARBLE II
Main similarity: Post scoring 
Costello was the 2015 team's best low-post scorer. He had a respectable package of moves to go to, resulting in a steady seven points per game off the bench on 57.9 percent shooting. 
Marble is easily the Spartans' best low-post scorer this season, resulting in 6.5 points per game on 61.4 percent. The numbers for these two guys almost mirror each other.
When the offense goes cold, the Spartans often turn to Marble for a post hook. Silly as it may sound, Marble's hook shot is this offense's most consistent and reliable 2-point option in my estimation.
ALVIN ELLIS III // JADEN AKINS
Main similarity: Three-and-D off the bench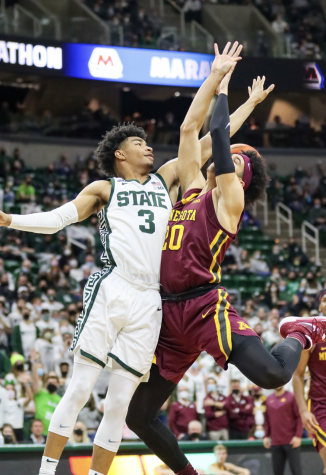 As a freshman, Akins has been a pleasant surprise for Izzo and Spartan Nation this season, highlighted by a 12-point performance vs. Baylor in the Battle 4 Atlantis Championship game. The Spartans lost by 17, but Akins was one of very few bright spots. 
Akins also had a few shots to guard Johnny Davis in the Big Ten Tournament when Christie wasn't, and he held his own. He's also shooting a solid 37.5 percent from deep.
That's pretty much the player Ellis was for MSU, a bench guy who hit threes (36 percent from deep in four seasons) and provided some defensive reinforcement. Ellis and Akins both stand at 6-foot-4 with the athleticism to guard dangerous offensive threats in spurts.
We have another jersey number alliance with No. 3, as well.
GAVIN SCHILLING // MADY SISSOKO
Main similarity: Hustling big off the bench
Two guys who provide toughness, strength, and hustle off the bench. Schilling played just under 17 minutes per game in 2014-15, much more than Sissoko's 4.5 minutes. But in terms of the type of player they are, the comparison checks out.
Sissoko's best hustling performance this season undoubtedly came in the win over Purdue, in which he hit the deck multiple times for loose balls and grinded on defense.
KENNY GOINS // JOEY HAUSER
Main similarity: Stretch big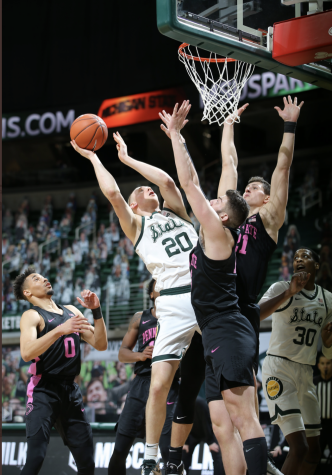 I really struggled to find a good comparison from the 2015 squad for Hauser. The game has changed quite a bit even in that short time, and stretch bigs then weren't nearly as prominent as they are now.
So, this one's a cheat code, since Goins redshirted the 2014-15 season. But he was on the roster and I have no other sorcery to fit Hauser in elsewhere, so here you go.
In all seriousness, Hauser's impact on this team cannot be overlooked, much like Goins' years ago. Hauser is an easy scapegoat for the fanbase when things go south, but let's not forget he does the little things very well, is an exceptional passer for a big and can still shoot the three.
He also had the game-winner vs. Minnesota at home, and scored seven-straight points for the Spartans in the Big Ten Tournament win over Wisconsin. He can really give the team a lift, whether he has a 2015 comparison or not. The Spartans don't make a run in this tournament without competent production out of Hauser, which probably looks like a couple of threes per game and somewhere from five to eight rebounds, too.
All in all, if these turbulent 2021-22 Spartans are able to channel the 2014-15 Spartans that made the Final Four as a No. 7 seed, we could see a similar – or same exact – result. Fill in your bracket however you choose, but don't be surprised if the Spartans win in round one, upset the No. 2 Duke Blue Devils (again) in round two… and then things get interesting, as they so often do.
You can follow Trent Balley on Twitter at @TrentBalley.