MSU track and field thrives at NCAA Indoor Championships
The Michigan State track and field team concluded its indoor season over the weekend when it sent four athletes to compete at the NCAA Indoor Championships on Friday and Saturday. 
Friday proved to be quite successful for the Spartans, as three athletes earned All-American honors. The night was highlighted by senior Jenna Magness, who finished sixth in the women's 5000m to earn First Team All-American honors for the second-straight year. 
Magness stuck with the leading pack for a majority of the race but ended up finishing roughly seven seconds behind the leader, BYU's Courtney Wayment. Magness' 15:37.43 time was one second off her best mark of the season. 
Magness will look to add to her three-time All-American status in the event as the outdoor season approaches.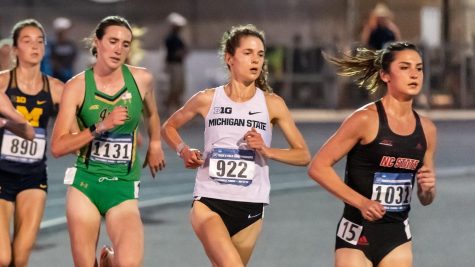 Friday's action also included two MSU pole vaulters earning Second-Team All-American honors, both for the first time in their indoor careers. 
Senior Sophia Franklin cleared an initial height of 4.16m in the women's pole vault but failed to clear the subsequent height of 4.26m in three tries. Her performance was good for 12th place overall, and it earned her a third All-American distinction of her career after becoming an outdoor All-American in 2018 and 2021.
On the men's side, senior Tyler Stephenson cleared a height of 5.35m on his second attempt but could not get over the following 5.45m bar in three tries. Stephenson's performance earned him a tie for 13th place in the event and a second-career All-American finish. He previously earned a Second-Team All-American honor at last year's outdoor championships.
Graduate student Morgan Beadlescomb also qualified for the men's mile finals on Saturday after running a 3:57.10 time in the prelims, in which he finished second overall. 
Some MSU history was made as the first night concluded, as Franklin became the first Spartan to earn All-American honors in women's pole vault with her performance. Magness was also the first woman in MSU history to earn indoor All-American honors in back-to-back seasons.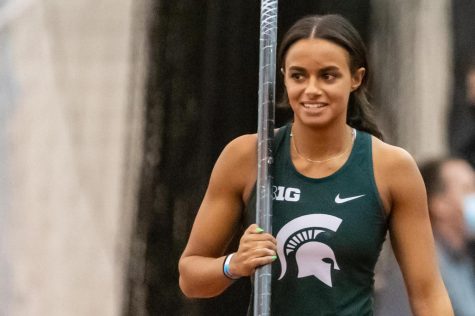 Saturday saw Beadlescomb run in two finals, the men's mile and 3000m. It was a meaningful day for him for a number of reasons.
Beadlescomb ran with a number 93 patch over his heart on Saturday, which he said was a tribute to his grandfather, who couldn't be at the meet after suffering a stroke. Beadlescomb said his grandfather wore the number 93 when he played football at MSU in the 1950s.
"He's always been proud of it and we've always been proud of him," Beadlescomb said. "He's taught me a lot about being an athlete and being a person, so I think it's important that he's here with me."
The mile was first, and it was a race in which Beadlescomb stayed steadily in the fourth-to-fifth place range. It wasn't until the final lap when Beadlescomb made his kick and closed in 25.55 seconds to challenge Mario Garcia Romo of Ole Miss for the national title. 
Beadlescomb ended up finishing .05 seconds behind Garcia Romo, running a time of 4:07.59 to earn a silver medal and First-Team All-American honors in the event.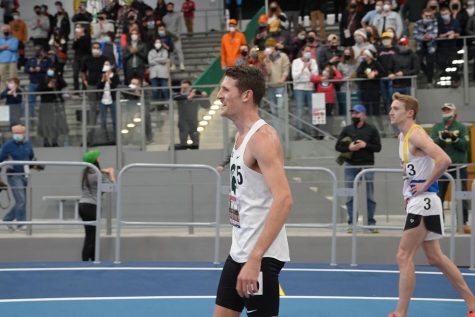 An hour later, Beadlescomb competed in the men's 3000m, where he stayed toward the back of the top pack until the final 600m, before finishing in 12th place to earn Second-Team All-American honors in the event. Beadlescomb ran a time of 8:04.87, his second-best time of the year. 
The distinctions that Beadlescomb earned on Saturday made him a career four-time indoor All-American. He'll look to add to his nine All-American honors between cross-country and track this outdoor season. 
Director of Track and Field Lisa Breznau was happy with her Spartans after their competitive performances at the championship meet.
"Overall, we were pleased with how it went," Breznau said. "Anytime you get a chance to come to a championship-level meet, you have a great opportunity to learn something new and grow as a person.
"I know that we'll be better this coming outdoor season because of that."
The outdoor season kicks off on March 24-26 when MSU will travel to North Carolina to compete in the Raleigh Relays.