A goal-by-goal breakdown of Michigan State's 8-0 playoff loss to Michigan
EAST LANSING, Mich—Michigan State will have some soul searching to do this offseason. There are a lot of questions surrounding this team. How is Michigan State going to score? What is this team's identity? Is Danton Cole the right man for the head coaching job?
While all those questions are valid concerns that need to be addressed, one of the largest downfalls of this team was its defense. The Spartans allowed 36.8 shots on goal per game. That trails only Miami (7-25-2) and Mercyhurst (14-18-4) for the most in the country. For a team that doesn't score many goals, that isn't a recipe for success.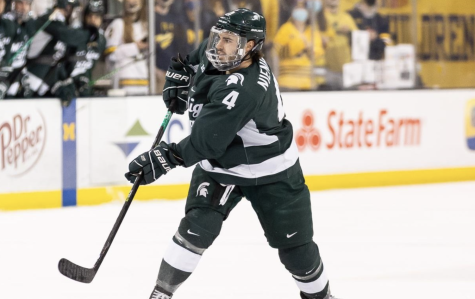 As talented as goaltenders Drew DeRidder and Pierce Charleson are, they can't score, and relying on them to steal games won't equate to many wins, especially when they don't get much support in front of them. When the pair aren't on their game, things can get out of hand in a hurry. Such was evident Saturday night when Michigan scored eight goals in the first two periods to end the Spartans' season in the opening round of the Big Ten tournament. 
What follows is a detailed, goal-by-goal breakdown of each goal that was scored in that blowout. That could at least provide a place to start for next year.
Goal 1 | 19:06 first period | Thomas Bordeleau assisted by Luke Hughes and Erik Portillo | 1-0
https://twitter.com/umichhockey/status/1500262133535166466?s=20&t=SBW4eD36YmET39QG-4PvFA 
Right out of the gate, Michigan has a 3-on-3 rush with Josh Nodler, Cole Krygier, and Christian Krygier defending. Once Bordeleau (34) gets the puck on the wing, Christian Krygier (15) immediately steps up to challenge him. Bordeleau burns Krygier with a nice stick handle, so now it's a 4-on-3 rush with Michigan's Brendan Brisson (19) and Michigan State's Tanner Kelly (26) joining the play. 
Nodler, Kelly, and Cole Krygier do a nice job cutting off a potential pass to Brisson or Mark Estapa (94) on the opposite side, so Bordeleau is forced to shoot. DeRidder's reaction time is a step slow, he's unable to seal his pad to the ice, and Brisson beats him low.
Goal 2 | 15:35 first period | Michael Pastujov assisted by Kent Johnson and Thomas Bordeleau | 2-0
https://twitter.com/umichhockey/status/1500263444355846145?s=20&t=SBW4eD36YmET39QG-4PvFA 
This one is mainly on DeRidder. Michigan State has the numbers advantage on the rush, 4-to-3. Pastujov (21) creates just enough space to get his shot off with a toe drag, and he fires one blocker side on net. DeRidder has a delayed reaction and doesn't get his blocker out until the puck is already behind him.
Goal 3 | 12:37 first period | Dylan Duke assisted by Nick Blankenburg and Johnny Beecher | 3-0
https://twitter.com/umichhockey/status/1500264911796015107?s=20&t=SBW4eD36YmET39QG-4PvFA 
DeRidder gets pulled after this, although I don't think blaming this goal on him would be fair. He plays the puck about as well as he can.
This is another 3-on-3 situation, this time defended by Cole Krygier (8), Powell Connor (5), and Erik Middendorf (24) who just came off the bench. All six players in this situation are on one side of the ice, and there isn't a clean look for Blankenburg (7) to get a shot off. The kicker here is the trailing Duke (56), who gets a prime look from the inside hash marks. By the time he touches the puck, both Mitchell Mattson (27) and Kyle Haskins (17) are five feet behind him. That's why coaches stress the importance of backchecking. 
Goal 4 | 9:09 first period | Kent Johnson unassisted | 4-0
https://twitter.com/umichhockey/status/1500267001012359178?s=20&t=SBW4eD36YmET39QG-4PvFA 
Keep in mind that Michigan State is on the power play here. The puck gets dumped into the Spartan zone, and Charleson goes behind the net to settle it for Cole Krygier with Johnson (13) tailing him. With Johnson that close, the best move for Charleson would be to push the puck a few feet towards the Meijer logo on his right and let Krygier get the puck in stride with some separation.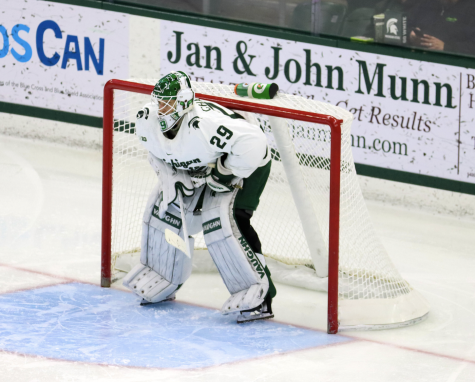 Instead, Charleson leaves the puck where it is, and Krygier is immediately met by Johnson as he touches the puck. Krygier inexplicably then tries to go back the other way and gets stripped by Johnson in the process. Charleson isn't as quick getting back to the net as he needs to be here, and so Johnson has a wide-open net to score on.
Goal 5 | 17:48 second period | Johnny Beecher assisted by Ethan Edwards and Nick Blankenburg | 5-0
https://twitter.com/umichhockey/status/1500276411730300932?s=20&t=SBW4eD36YmET39QG-4PvFA 
There's some good puck movement here by Michigan to break out of the zone, especially the long pass from Edwards to Beecher. Michigan State plays this pretty well, forcing a sharp-angle shot without allowing a centering pass. Charleson just gets beat five-hole.
Goal 6 | 6:18 second period | Mackie Samoskevich assisted by Luke Hughes and Nick Blankenburg | 6-0
https://twitter.com/umichhockey/status/1500280914693136384?s=20&t=SBW4eD36YmET39QG-4PvFA 
Michigan is on a five-minute power play while Christian Krygier is in the box for slew footing. You can ask why the Spartans put themselves in this position – they are top four nationally in penalty minutes, after all – but regardless, when you go on the penalty kill against a team like Michigan, you can't expect good results. 
This is where Michigan's talent takes over. Hughes (43) fires a puck that looks wide, but Samoskevich (11) makes a brilliant deflection. Not much here that anybody can do.
Goal 7 | 5:35 second period | Johnny Beecher assisted by Michael Pastujov and Jacob Truscott | 7-0
https://twitter.com/umichhockey/status/1500281903013715972?s=20&t=SBW4eD36YmET39QG-4PvFA 
The second goal of the Krygier major. The shot from Truscott (15) rebounds straight to Pastujov in a great scoring area, and I'm surprised he didn't shoot it right there. It's not the best angle, but any Division I hockey player should be able to make that.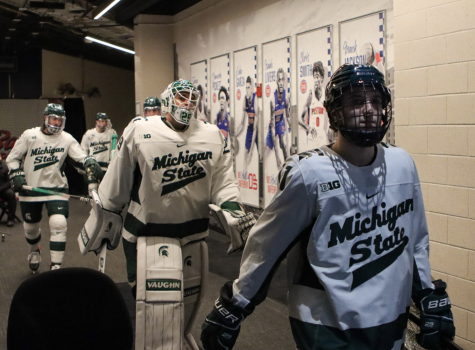 Instead, Pastujov passes up a good shot for a great one and tees it up for Beecher to one-time his second of the game. Charleson gets a little of his pad on it, but not enough. Having to push back across the crease against his momentum will do that. Not much Charleson could do here, this is just phenomenal execution from Michigan.
 Goal 8 | 4:53 second period | Nick Blankenburg assisted by Luke Hughes and Erik Portillo | 8-0
https://twitter.com/umichhockey/status/1500282211903295489?s=20&t=SBW4eD36YmET39QG-4PvFA 
The replay doesn't make this very clear, but the puck ricochets off Dennis Cesana's stick blade right as Blankenburg releases the shot. Couple that with Cesana and Powell Connor obstructing Charleson's sightline, and the puck beats Charleson high blocker. It's an unfortunate bounce, and it's not one that you can fairly assign blame to any one player for.
Despite neither team scoring in the third, Michigan was playing like it could reach 12 goals if it so desired.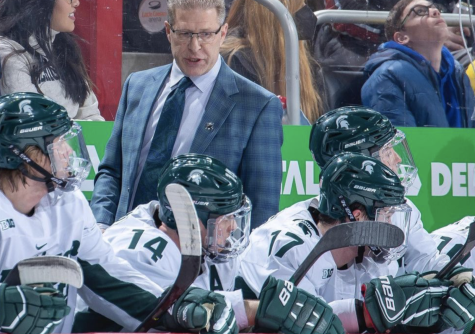 Losses as demoralizing as this are exceptionally rare. It's hard to look at this game, especially these replays, and take away anything positive. If the Spartans want to rebound and be competitive in the Big Ten for the first time in over five years, they will need to find an identity. Right now, the team looks one-dimensional, unprepared, undisciplined and just flat out lost on the ice. They're not going to be outrecruiting schools like Michigan or Minnesota anytime in the immediate future. That means that the guys on the roster will need to figure out what kind of team they want to be, or else they risk being in this exact same spot yet again a year from now.