Clouden, Ekh and Hagemann receive All-Big Ten honors
EAST LANSING, Mich—Following a 14-14 overall record that included an 8-9 Big Ten mark, three Michigan State Spartans received All-Big Ten recognition on Tuesday afternoon.
Senior guard Nia Clouden was named as an All-Big Ten First Team selection by both the coaches and the media; freshman Deedee Hagemann and Matilda Ekh were named All-Big Ten honorable mention selections and were also named to the conference's All-Freshman team.
Graduate forward Alisia Smith received the conference's sportsmanship award.
Hagemann received the media's vote, while Ekh received both the media and coaches vote. Both players notched at least 15 starts this season, in large part caused by the transfer of guard Alyza Winston to Mississippi State and season-ending injuries to forwards Julia Ayrault, Tory Ozment and Moira Joiner.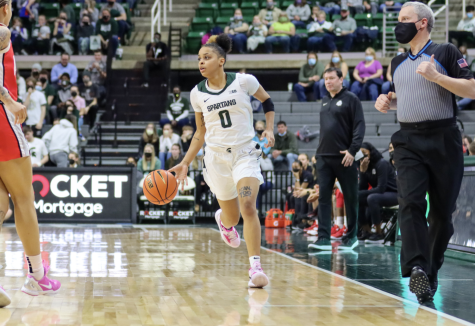 For Clouden, it's the second consecutive year she was named to as a first team All-Big Ten selection and the fourth overall year she has been named to one of the conference's All Big Ten teams. She was fifth in the conference in scoring, averaging 20.4 points a game, and was in the top 10 in assists per game, field goal percentage and free throw percentage amongst the guards.
Ekh averaged 11.5 points per game and made 62 3-pointers in 27 starts. She also finished eighth in the Big Ten this season with a 39.2% 3-point shooting percentage and was second on the team in minutes played per game (33.7).
Hagemann averaged 7.9 points a game in 25 games (alongside 16 starts), and finished with 135 assists. That is the third-best mark of any MSU freshman in school history. She averaged 5.4 assists a game, the fourth-best mark in the Big Ten, and was 10th in the league with a 1.8 assists/turnovers ratio.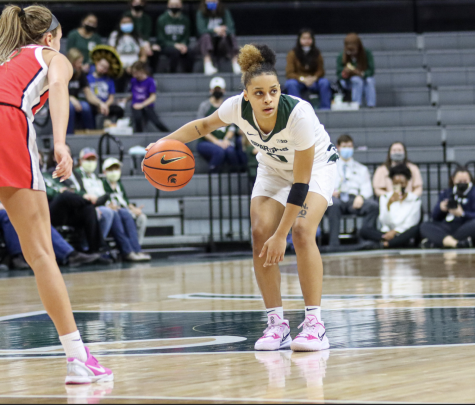 It's the first time since 2007-08 in which the Spartans have had two players named to the Big Ten All-Freshman team.
The Spartans will look to make a run in the Big Ten tournament when they square off against No. 9 seed Purdue on Thursday at 11:30 a.m. MSU previously fell to the Boilermakers 69-59 at home on Jan. 9.
This game will be a rematch of the first round of the 2019 Big Ten tournament where the No. 8 Spartans fell to No. 9 Purdue 72-63. Last season, MSU knocked off Penn State and Indiana in the tournament before falling to Iowa 87-72 in the semifinal round. Those two wins helped propel the Spartans to a No. 7 seed in the NCAA Tournament.