Klein: Inconsistency hurt Michigan State all season and it struck once more against No. 6 Michigan
Marin Klein, Women's Basketball Beat Reporter
February 24, 2022
ANN ARBOR – Michigan State made its point upsetting No. 4 Michigan a few weeks ago, but Thursday night the now No. 6 Michigan Wolverines got the better of the Spartans.
Of course, MSU made the same errors Thursday night that has led to losses to both ranked and unranked teams all season, but in a rivalry game all rankings, odds and metrics are off the table. However, Michigan State simply may have gotten luckier in game one against Michigan than it did on Thursday. In a 62-51 defeat, Michigan was clearly the better team.
All scores aside, though, there is clearly a different mindset for the Spartans when they lace up for a game against the Wolverines. Thursday night we saw a completely different team than the team that showed up on Monday evening's dismal, home-loss against Penn State.
It's a battle of consistency for Michigan State, and Suzy Merchant's partner on the men's side perhaps has summed it best for both programs. They are "consistently inconsistent," said Tom Izzo. 
Walking into their first game against Michigan just a few weeks ago, no one saw the Spartans pulling off the upset that they did. However, they did it and did it behind a team defensive effort, aggression and decisiveness offensively and behind a sheer will to win. The opposite MSU team showed up Monday night when no one saw the Spartans falling to Penn State. When you think they will struggle, the Spartans show up. When you think they should have an easy victory, everything that can go wrong does. 
At the start of Thursday's game, the Spartans were playing with a new intensity. Perhaps trying to make up for the lack of intensity just three days ago against PSU. The Spartans were getting the rebound and making shots in a fashion that we haven't seen in their last few games.
Michigan State had the opportunity to walk out with another win under its belt against its top ten rival. Instead, that opportunity slipped through MSU's fingers down the stretch. 
It was easy to see the cracks forming in the MSU team as the game progressed. Shot clock violations, foul trouble, bad turnovers and the inability to get offensive rebounds were all telltale signs that MSU would have trouble upsetting Michigan twice in one season. The Wolverine defense came on strong as the game went on and the Spartans succumbed to the pressure.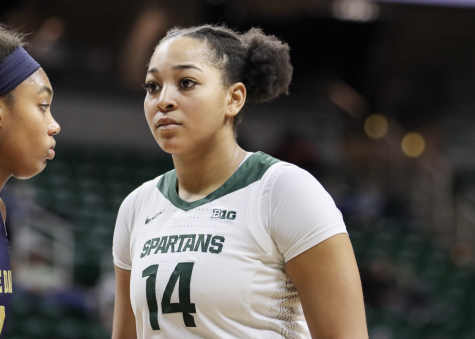 Turnovers and foul trouble continue to be a consistent issue for the team, as they have been all season. Taiyier Parks and Alisia Smith got their fouls up early like usual and we saw freshmen inexperience lead to significant turnovers. 
MSU went into its old ways of shooting struggles in the latter stages of the game. The Spartans were shooting a respectable 46% through three quarters but dropped off to a dismal 7% (1-for-14) in the fourth quarter.
The promise Michigan State showed in the first half vanished into thin air. 
The Spartan's victory over Michigan gave them a chance to prove themselves and tonight they could not finish what they started. 
This game has completely taken the Spartans out of the bubble. With only one game left ahead of them before the Big Ten Tournament, the Spartans can say goodbye to any hopes of making it in.