Opinion: Utter embarrassment in Iowa City means it's time to push the PANIC button for Michigan State
EAST LANSING – 26 points. The final margin of victory Tuesday night for the No. 25 Iowa Hawkeyes over newly-unranked Michigan State. The Spartans allowed Iowa to torch them to the tune of 43% from 3-point range and the floor and 90% (18-for-20) at the stripe. MSU fought back valiantly with a dismal 35% outing from the field and 29% from downtown. 
Embarrassing is the best adjective to describe the Spartans' performance against a middle-of-the-pack Iowa team that's fighting to build a tournament resume. 
Speaking of tournament resume, despite the belittling fashion of Iowa's win, it's barely a Quad 1 win for the Hawkeyes with MSU currently ranked 29 in the NET. That number is likely to drop out of the top 30 and recede Iowa's win to Quad 2. 
A 26-point, Quad 2 win at home is what Iowa is "supposed" to do. That statement would've baffled every Michigan State fan just over a month ago. But in the last 38 days, Michigan State has toilet-bowled from a Big Ten Championship contender and likely top 4 seed in the NCAA Tournament to a team that is at risk of not even being favored in the first weekend of March Madness. 
The Spartans have lost five of their last six games and seven of the last 11. Each loss lacks discipline, energy, connectedness, defense, focus and attention to detail. Which undoubtedly makes this downward trend worse because all of those things are fixable. 11 games though, and Tom Izzo and company still haven't figured it out. We've sat on the edge of our seats each game, waiting for the convincing victory that would signal a turning of the corner for this team. 
It's honestly no surprise that this Michigan State team has lost some of the games it has. A January loss at home that should've been an easy win is almost predictable at this point in Izzo's tenure. A February slip could be characterized as expected. 
But this? 
No one saw this coming. No one saw the barren lack of confidence this program and fan base would have.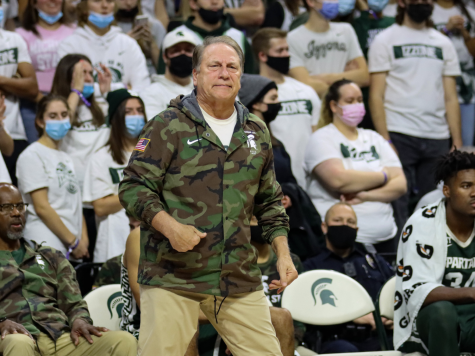 That lack of confidence is founded, though. Michigan State's best wins this season go as so: 64-60 at a neutral site vs. Connecticut, 63-61 at a neutral site vs. Loyola Chicago and 86-74 on the road vs. Wisconsin. 
That Wisconsin win is particularly dumbfounding. It immediately followed MSU's other embarrassing 64-62 home loss to Northwestern. The Spartans went into Kohl Center and punched Wisconsin in the mouth; a Wisconsin team that, despite missing a starter in Tyler Wahl, had won seven in a row and suffered just two losses through its first 17 games. 
It looked like that win. The win that proved MSU's loss to Northwestern was a fluke, that the Spartans were back and that they were still going to be a top 10 team in the nation. Instead, it was followed by a poor performance at Illinois and Michigan State quickly hopped back on the mend. 
The home loss to Northwestern, the 55-point performance at Illinois, the lack of energy on the road at Rutgers, the embarrassment at Penn State and now this. A 26-point loss to Iowa and a complete lack of coaching, attention to the scouting report, defensive energy, offensive game plan, the list goes on. 
Moving forward it doesn't get easier for Michigan State, either. MSU has to play No. 4 Purdue at home and Michigan and No. 22 Ohio State on the road and, by nearly all metrics, the Spartans are projected to lose all of those games and finish the season at 19-12.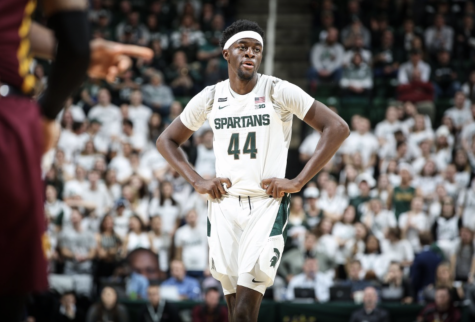 I don't know what Tom Izzo needs to do to fix this. Maybe he needs to sit down and have a Kumbaya with Gabe Brown. Maybe he needs to discipline this team as he did in the old days (something he has said he can't do "without offending someone anymore"). Maybe this problem is beyond the point of no return and the rest of the season will be an unexciting, torturous, limp to an inevitable first-round exit in the NCAA Tournament. 
Regardless, MSU basketball has some soul searching to do.