MSU women's basketball unlikely to make the NCAA Tournament
Owen Oszust, Women's Basketball Beat Reporter
February 21, 2022
East Lansing – The Michigan State Spartans fell to the Penn State Nittany Lions 79-71 on Monday night. MSU now drops to 14-12 on the season and 8-7 in conference play. The Spartans have No. 6 Michigan, No. 17 Ohio State and the Big Ten tournament remaining on the schedule.
It will come down to MSU having to beat both Michigan and Ohio State to finish the regular season. Then, the Spartans will need to win at least two games in the conference tournament to make the NCAA Tournament. MSU really needed to beat Penn State, as it was the most inferior team remaining on the Spartans' schedule.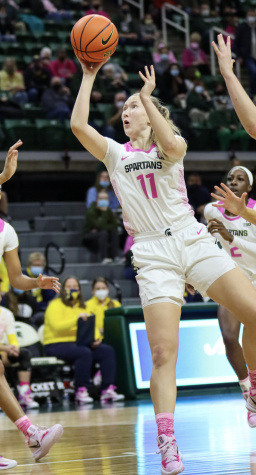 In Monday's loss, MSU shot the ball fairly well, going 38% from both the field and from beyond the arc. Unfortunately, MSU did not play very well on defense and gave up 23 fast-break points. It was simply not a good situation for the Spartans on defense, especially in the first quarter, being outscored 29-19.
The offense wasn't the problem on Monday, even though a lot of the time, it can be. MSU won't be able to beat Naz Hillmon and No. 6 Michigan for a second time, especially on the road. Then having to beat No. 17 Ohio State and players like Jacy Sheldon is going to be almost just as difficult. MSU would need to play a complete four quarters and play its best basketball all season. 
It's going to be extremely hard for MSU to make the tournament unless it can pull off a miracle run. Nothing is impossible, but the Spartans would need to do the improbable.