MSU wrestling gears up for Senior Night
Coming off back-to-back losses against Northwestern and No. 3 Michigan, the Spartans fell to No. 16 and will need to come up huge against No. 21 Central Michigan on Friday. Despite the losses, MSU's No. 7 Cameron Caffey won his ninth and 10th-straight victories at 197 pounds. Meanwhile, No. 11-ranked Rayvon Foley had impressive wins over Michigan's No. 7 Dylan Ragusin and Northwestern's No. 8 Chris Cannon at 133 pounds. The two top-10 victories for Foley earned him Big Ten Wrestler of the Week honors.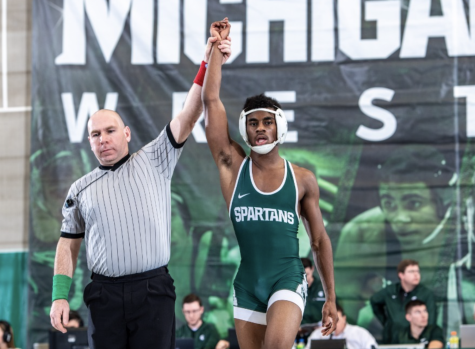 Given the losses, Michigan State looks to bounce back on their final meet of the season. The seniors especially are going to be going in with a chip on their shoulders after losing consecutive meets for the first time this season. The seniors being honored are Jaden Enriquez, Nathan Jimenez, Stone Moscovic, Christian Rebottaro, Julian Saldana, Matt Santos, Jake Tucker and Brad Wilton.
While Foley and Caffey continue to impress, the rest of the team needs to step up to finish strong with a win. Central Michigan just finished the MAC West Championship last Sunday with a dominating 28-10 victory over Buffalo. The Chippewas are led by Intermat's No. 8  heavyweight Matt Stencel and also have ranked fighters at other weights with No. 33 Brock Bergelin at 125 pounds, No. 12 Desden Simon at 141 pounds and No. 16 Johnny Lovett at 157 pounds.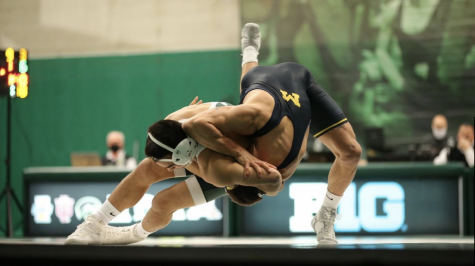 The match to watch for this meet will be the 149-poundbout. CMU's Corbyn Munson leads the team with 20 overall wins and is going to be matched up against MSU's Peyton Omania. Omania is coming off of two decision losses and hoping to bounce back. If Omania is able to secure a victory here and overcome his previous losses, the Spartans will be in a good position to secure the rest of the meet if Caffey and the red-hot Foley keep dominating on the mat.