Spartans eyeing potential Lewandowski return this weekend vs. No. 12 Notre Dame
EAST LANSING, Mich. – It's no secret that Michigan State has been bad without senior forward Mitchell Lewandowski in the lineup. Since he re-aggravated an injury against Michigan Tech in late December, the Spartans have been in a complete freefall, dropping all 10 games since. Losing fellow forward Griffin Loughran the week after Lewandowski only added insult to injury.
However, this weekend offers another opportunity to turn the tide and move out of the basement of the Big Ten. The No. 12 Notre Dame Fighting Irish will come to Munn Ice Arena this weekend to kick off the Spartans' four-game homestand to end the regular season.
Reinforcements may be coming  just in time for Michigan State. Lewandowski could make his return to the lineup as soon as Friday night – a much-welcome addition for a team struggling to score.
The Irish (21-9, 13-7 Big Ten) come into East Lansing off of a split against Wisconsin. After junior goalie Ryan Bischel surrendered three goals on five shots on Feb. 12, he would be replaced in favor of graduate transfer Matthew Galajda, who would save eight of the nine shots he saw. Despite outshooting the Badgers 41-15, Wisconsin would win the first matchup 5-3. The goaltending would return to form the next night, and the Fighting Irish would secure a 3-2 win.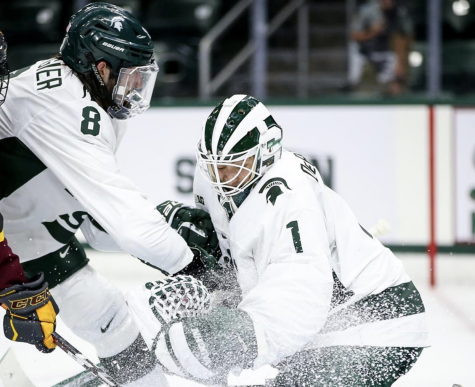 The Spartans (11-18-1, 5-15 Big Ten) continued their downward spiral last weekend with two lopsided losses to in-state rival Michigan; the latter came at Little Caesars Arena in Detroit for the annual Duel in the D. The Spartans have now lost 10 straight, the third-longest losing streak in program history. Only the 1955-56 and 1950-51 squads have longer streaks, both at 14.
The last time these two teams met, MSU took one of two games in South Bend. In the first game on Dec. 10, Danton Cole's squad jumped out to an early 2-0 lead in the first two minutes, but proceeded to squander that over the next 48, resulting in a 3-2 Irish win. The second contest needed overtime before either team would find twine. Lewandowski would score less than a minute in to give MSU the narrow 1-0 win. 
What's the full update on Lewandowski?
As of right now, Lewandowski is considered day-to-day instead of week-to-week, which is a positive sign. For now, all signs are pointing to him being a game-time decision for this weekend.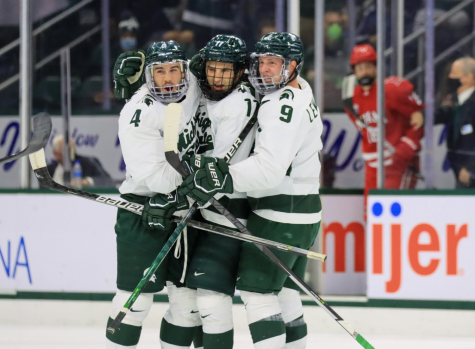 Lewandowski has 18 points this season – trailing only sophomore forward Jeremy Davidson and Jesse Tucker for most on the team – despite only playing in half of the team's games. While the team clearly misses Lewandowski's veteran presence on the ice, it is equally important for other guys to step up. Look to guys like sophomore defenseman Nash Nienhuis, who scored five points last weekend against Michigan, to make those contributions. 
What adjustments does MSU need to make to beat Notre Dame?
Cole emphasized consistency this week in his press conference, and he's right. 
"There's times we've done certain things well," he said, "done A well and not B, sometimes we've done B well and not A. We find ourselves in a situation where we've got to be pretty complete."
Last Saturday in Detroit, six total goals were scored in the latter half of the second period, three for each team. There were stretches where, in my opinion, Michigan State played some of its best offense of the season. The defensemen were firing pucks from the point, forwards were screening the goalie, and players were crashing the net and getting loose rebounds.
However, at the same time, the team seemed so enamored with the offense that they allowed Michigan to make stretch passes and get odd-man rushes or breakaways seemingly at will. Hence the three goals that went by DeRidder. While Notre Dame doesn't have the firepower to make those same passes that Michigan did, it will still be key for the Spartans to strike that balance between being too aggressive and not being aggressive enough.
Where will Michigan State end up in the standings?
I know some of you reading this may be thinking: "Why does it matter? The best MSU can finish is fifth place."
While the Spartans are far removed from Big Ten title contention, seeding for the Big Ten tournament is still at stake. The current Big Ten standings currently look like this:
| | | |
| --- | --- | --- |
| Team (Big Ten Record) | Points | Remaining Opponents |
| Michigan (14-6) | 45 | vs. Ohio State, at Notre Dame |
| Minnesota (14-6) | 43 | at Penn State, vs. Wisconsin |
| Ohio State (13-7-2) | 42 | at Michigan,  BYE |
| Notre Dame (13-7) | 35 | at Michigan State, vs. Michigan |
| Wisconsin (6-15-1) | 20 | BYE, at Minnesota |
| Penn State (5-14-1) | 17 | vs. Minnesota, at Michigan State |
| Michigan State (5-15) | 14 | vs. Notre Dame, vs. Penn State |
It's not mathematically possible for the Spartans to catch any of the top four teams and get home ice advantage in the Big Ten tournament. However, there's plenty of room for the bottom three to shuffle around.
Since Wisconsin has two games in hand over Michigan State and Penn State, the Badgers have a bye this week. The week after, they go on the road to Minnesota, so the odds of them creating any separation from the other two are slim. 
Penn State gets Minnesota at home this weekend. Once again, that's not a great opportunity to pick up points.
Things get interesting the weekend after Michigan State-Notre Dame as Penn State comes to East Lansing for the final weekend of the season. Assuming that Minnesota wins at least one of their remaining four, this series will be crucial for Michigan State's tournament placement. If the Spartans can come out of that final series with a sweep, then they can avoid having to play their first tournament game in either Yost or Mariucci – two notoriously difficult arenas to play in against teams loaded with NHL-ready talent.