Student group is asking MSU to change current firearm policies on campus
Zac Slowik, News Editorial Assistant
February 16, 2022
EAST LANSING- A student organization at Michigan State University is asking the Board of Trustees to reconsider its current gun policy on campus.
Michigan State currently prohibits students, faculty and staff from carrying all firearms on campus. However, visitors with a Concealed Pistol License (CPL) are allowed to carry a gun on campus. 
The Students Against Gun Violence (SAGV) organization at Michigan State is hoping this ruling will be changed, including junior Cate Dombrowski who has been a part of the SAGV since 2019.
"I feel like we haven't done enough in the past, right now we are spreading awareness through social media and local movements on campus," Dombrowski said. Our main goal is to make MSU a safe place for students and faculty. I believe everyone should feel safe going to work or school and getting this rule changed is a great step towards a safer environment."
Michigan State's policy states that "except as permitted by state law regulating firearms, no person shall possess any firearm or weapon anywhere upon property governed by the Board."
State Law prohibits anyone to carry a firearm in classrooms, dorms and stadiums but does not restrict the ability to carry a weapon in other parts of campus.
"I don't think the change in policy impedes anybody's right to own guns and I don't have any issue with people owning guns. There are just some places guns do not belong and schools are one of them," Dombrowski added.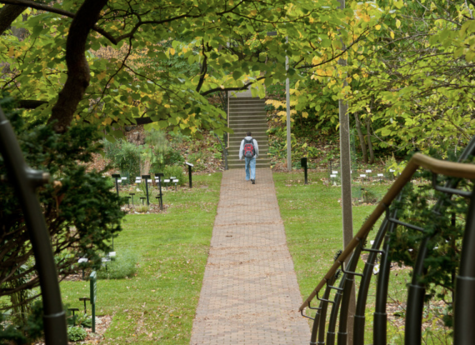 Mara McKenzie and JD Lancaster are also part of MSU's Students Against Gun Violence and they both believe the best way to get this policy changed is to get support from the Board of Trustees.
"We just need the Trustees to follow suit of other universities in the state and make the change," McKenzie said.
The Students Against Gun Violence organization has been working on getting this policy changed since 2019; they have no plan to stop.
Mason Vore, a junior at MSU said, "The group is very passionate about the work we are doing, we want a safe environment for people to learn. Each and every day we are making progress with the work we are doing."
The policy needs at least five (majority) votes to be passed, and on Friday, the group stood up in front of the nine members of the Board of Trustees and is hoping to hear back in the following months.