Michigan State falls again in weekly AP poll rankings
Manit Patel, General Assignment Reporter
February 14, 2022
After splitting another week's two-game set, Michigan State men's basketball fell two spots to No. 19 in the weekly AP poll rankings released Monday afternoon.
The Spartans are the lowest-ranked member of the Big Ten conference in the Top 25, coming in behind four other members of the conference. Purdue (No. 5) fell two spots after a 82-58 shellacking at the hands of Michigan this past Tuesday, combined with a poor performance against Maryland on Sunday. Illinois (No. 12) rose one spot this week after playing one game and winning against Northwestern, 73-66. Wisconsin (No. 15) and Ohio State (No. 18) fell one and two spots, respectively, with the former picking up a win over the Spartans on Tuesday, before losing to Rutgers on the road, 73-65. Ohio State picked up a road win over Michigan while also falling to Rutgers.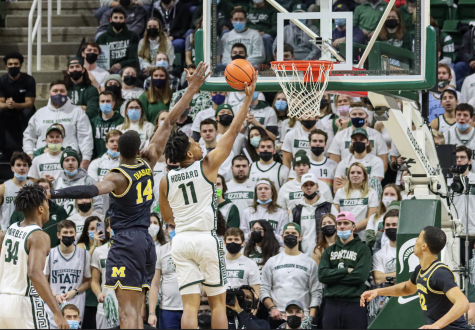 The Scarlet Knights, along with Iowa, were the remaining Big Ten members also receiving votes. The Hawkeyes received 17 votes, while the Scarlet Knights received 10. 
Michigan State is currently ranked No. 24 in the NCAA's NET rankings, which the NCAA uses to determine seeding for the NCAA Tournament. The Spartans feature four Quadrant 1 wins, six Quadrant 2 wins and not a single Quadrant 3 or 4 loss.
Michigan State plays two games this week, once on the road and once at home. On Tuesday, it travels to Happy Valley to play Penn State at the Bryce Jordan Center at 6:30 p.m. To finish the week, the Spartans host No. 12 Illinois on Saturday at 12:00 p.m. at the Breslin Center.